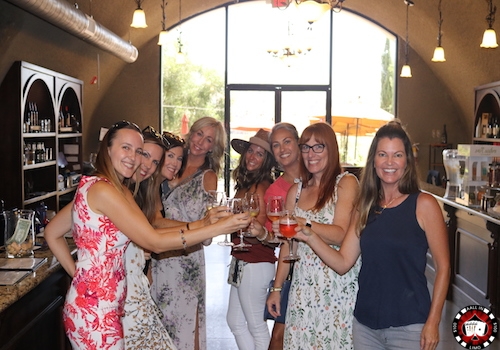 Team buildings are a great way not only to reward yourselves for all the hard work you're doing but also to connect and get to know each other better. It can also be a very good opportunity to build partnerships with other businesses. But when it comes to choosing the perfect location or activity for your team building it's really difficult to come up with something that everyone will enjoy.
Luckily, San Diego has a lot to offer in this perspective with brewery tours , distillery tours, casinos, and amusement parks.
If you're a woman running a company with just female co-workers, none of the above sound quite right. Well, we know exactly what would be the perfect choice for your team-building: a wine tour to which you can add a few fun games! Just imagine, going from one place to another, enjoying some of the most fantastic varieties of wine that San Diego has to offer and having some bonding time with your co-workers. As you know wine helps you relax and be more open so if you guys are a little shy or introverted, it's the perfect experience to help you get out of your shells. We guarantee that by the end of the trip, you'll discover that your co-workers are more awesome than you already know them to be and you'll be way closer.
Actual wine tour team building photos are provided by Kristin Bradford, a San Diego based branding photographer.
A Tour of Temecula Wineries
Home to acres of rolling hills, beautiful vineyards and hundreds of world-class wines, Temecula Valley Wine Country is a great place for your wine tasting tour. And there are a lot of great places where you can also enjoy a good lunch or dinner. As fun as it all sounds, we know it's hard to plan a perfect itinerary, so we're here to help you with a list of some of the wineries you definitely need to go to:
Miramonte Winery: this spot is said to be a trendsetter of the SoCal wine scene. Their wine menu has a variety of whites, rose, reds, and sangria but their Tempranillo is pretty amazing and definitely a must-try. Another great thing to enjoy here is the beautiful view which will make for some cool office pictures too!
Maurice Car'rie Winery: here you'll find a lot of great wines, from semi-dry to their signature dessert wines that are definitely a must-try. But there is also another thing that you can't leave this place without having tasted their famous sourdough with garlic and brie cheese, which is to die for. Some people say that it gets you addicted on the first bite, and luckily they've made it available for sale unbaked. You'll also find here an open grass field with picnic tables and a gazebo where you can relax and sunbathe.
Wine Games and Challenges
The purpose of team buildings is to get everyone to connect and know each other better. What better way to do that than through a game? Even better, since you've chosen a tour of wineries, making it a drinking game! If you're a bit short on inspiration, check out our list of fun team building games that everyone will enjoy participating to:
Office Trivia is the perfect way to bring everyone together and challenge them in a new way. You can break into two groups and even offer some small prizes to the team that gets the most points. If you want to write your own trivia questions you should sort them into categories (for or five questions per category should do). Don't forget to establish a point system and make the rules clear to everyone from the beginning!
Two Lies and a Truth,  a classic of the drinking games category. It's an excellent icebreaker when it comes to team buildings and great for learning some new things about each other. The rules are pretty simple: everyone has to say three things about themselves. One is true and the other two are lies. The others have to guess what was the true statement. If you didn't guess it, you need to drink.
What's My Name? is a very fun game that can also help with developing everyone's cooperation skills. It has no complicated rules or potential for competitiveness so everyone can just relax and have some laughs with this one. The rule is that each player is assigned the name of a famous person. The note with the name must be displayed on the forehead or other parts of the body where the players can read the name but the person who wears it cannot. Once all the names have been displayed and the game starts, the players need to guess who they represent by asking some key questions to one another.
Most Likely is a drinking game that will definitely generate a good laugh. The rules are pretty simple. Everyone sits in a circle and one player asks a most likely question. For example "Who is most likely to fall asleep at work?". On the count of three, all the players need to point out towards the person they think would be most likely to do it. Whoever gets pointed at, has to take a drink for every person who pointed at them. For example, if five people pointed towards you, you need to drink five times.
True or False Storytime gets everyone's creative side working and it's a great way to know more about each other. First off, you need to have a dice to play this game as it constitutes an important part of it. The rule is that everyone writes down various nouns on a piece of paper. Everyone takes turns selecting a piece and rolling the dice, without letting anyone else see the number they rolled. An even number means you need to tell a true story from your life involving whatever is written on the paper. An odd number means you need to make up a story. Everyone else has to guess if the story was true or false. If they're wrong, they drink, if they're right, you drink one sip for every person who guessed it correctly.
Book a Limo For Team Building From Aall In Limo & Party Bus
A team-building can be a lot of fun and a great way to turn your co-workers into great friends, especially if you're working in a small company.
We can help you plan your entire itinerary and provide safe and elegant transportation for your group so that this way everyone can have fun on the wine tour without worrying about who's gonna be the designated driver!
Call us at 858.336.1894 and book your limo now!