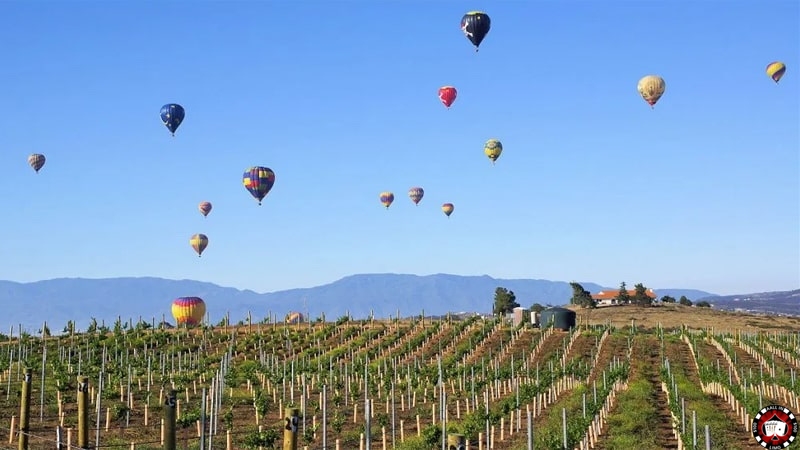 The Temecula Valley Balloon & Wine Festival is coming up on June 1st, 2018, and it lasts 3 days. This year marks the 35th annual Temecula Valley Balloon & Wine Festival, and it is one you won't want to miss. The festival is family-friendly, with tons of stuff for people of all ages to enjoy.
There will be several vendors set up throughout the festival grounds, offering a variety of food, handmade crafts, and commercial products.
Temecula Valley Balloon & Wine Festival is one of Temecula Valley Southern California Wine Country's major, signature events, a colorful annual festival that attracts over 400,000 attendees in 3 days. People can enjoy dramatic evening hot air balloon glows and awe-inspiring morning balloon ascensions, as well as savoring Temecula Valley award-winning wines, exceptional live music, and entertainment.
Enjoy a memorable experience and book a hot air balloon flight! Your journey will begin at sunrise as the balloon lifts up gently into the sapphire skies above Lake Skinner. The Temecula Valley Balloon & Wine Festival perfectly combines gourmet foods, craft beers, local wines, and great entertainment, so it is definitely an event you do not want to miss!
Lay back and relax while we drive you to this event! Our limos are equipped with everything you need for a comfortable and luxurious ride to and from this event.
Highlights of the Festival
Two of the highlights of the festival are the Wine & Beer Pairings where attendees can enjoy some of the best food, wine, and beer that Temecula Valley Wine Country has to offer. Guests at the Food & Wine Pairing will enjoy different courses presented by different chefs along with specially selected wine pairings. Speakers from each winery will give a short presentation on the wines. Those who attend the Beer Pairing will enjoy specially planned courses that are prepared by different chefs and feature a different beer as an ingredient. A brewmaster will give a brief narrative on each of the featured beers.
Location: Lake Skinner Recreation Area, 37701 Warren Rd. Winchester, CA 92596
Time: Friday at 3 pm and Saturday and Sunday at 6 am
Silver Seating: $100; Cabana Club: $200
Get There in Style with Aall In Limo & Party Bus
To book a limo or party bus to and from the festival, contact the number one San Diego limo company Aall In Limo & Party Bus. We specialize in Temecula Valley wine tours and our friendly drivers are familiar with the restaurants, shops, and other hot spots throughout Temecula as well.
We look forward to getting you to and from the festival safely and in style! We are happy to help you plan other activities too, such as a trip to the spa for a couple's massage, a trip to Old Town for shopping and great eateries, or even a trip to Pala or Pechanga casinos.