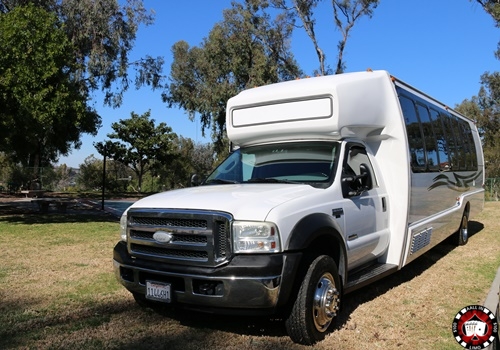 Driving to a party or formal event can spoil the fun. You or one of your friends will have to sacrifice yourselves for the evening and give up a nice drink for the sake of driving. There's a solution to get to your destination safely and ensure that everyone's having a great time all the way back and forth. Rent a party bus. One of the best options we can provide you is the Limo & Party Bus. This hip vehicle is one of our clients' favorite. Find out how it can benefit you! The Limo & Party Bus is more than a transportation mean, it is the most comfortable riding experience. It has the capacity to host 14 passengers in its dark elegant interior. This vehicle is provided with top quality facilities like:
full-length leather U – seat
plasma TV
bar amities with fiber optic light
laser light show
starlight ceiling
prime audio system with 6 subwoofers
The Perks of a Memorable Ride in Our Limo & Party Bus
The ride and the event will bring equal excitement: your time in the party bus can be as fun as the event you are about to attend. There's enough space to spoil yourself and the music and lights will bring everyone in the party mood in no time. It's a cool way to surprise others: everyone will be astounded to see you show up at their event in such a fancy vehicle. This cool party bus speaks for itself; everyone will figure out you have been partying and you're there to party some more.
Booking the Limo & Party Bus is easy and affordable: renting this dream vehicle is more affordable than you thought. If you decide to split the costs between you and your pals, it's an expense you won't even take into account at the end of the day. Remember that the party bus can accommodate more than a dozen people and offer an exquisite VIP experience that will make every dollar worth it.
Our drivers can pick you up from anywhere: another great advantage of the party bus is that you'll have you own private chauffeur for the day. All the drivers at All In Limo are licensed professionals that know how to deal with groups of people in a respectful and professional manner.
Party all you want: You can bring in as much food and liquor you find necessary. This will boost your mood and make the tour even more enjoyable. You have the best guides on board: If you need any suggestions regarding the most interesting locations in San Diego and Temecula Valley, your driver is the best person to turn to. All our chauffeurs know these places like the back of their hand.
These Famous People Know What Bus Party Means
Lady Gaga & Kate Moss: Lady Gaga hosted her private VIP bus party in Paris where the guest of honor was none other than top model Kate Moss; the two celebrities partied like pros all night long
Selena Gomez: after her 21st birthday, Selena Gomez continued celebrating aboard of a cool party bus, accompanied by Nina Dobrev and Julianne Hough. The girls had quite a fun as they were heading to a gypsy-themed party
Tailor Swift: the famous singer is no beginner when it comes to partying, she attended Joe Jona's surprise birthday party on a bus where she had loads of fun and was even filmed rapping
Blac Chyna: the well-known model celebrated her baby shower in a unique way: she got all her friends on a party bus 'equipped' with belly dancers and stripper poles
Solange Knowles: for her wedding, Solange decided to rent a party bus where her sister Beyoncé and the rest of the family had a good time
Austin Mahone: the singer had a great idea to show up on a party bus at the 2014 edition of the VMA's, accompanied by a marching band.
Book a Party Bus From Aall In Limo And See The Difference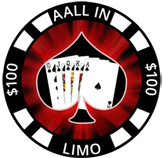 We can get you and your crew safely to and from any location or event in San Diego and Temecula. Be it a San Diego brewery tour, a Temecula wine tasting tour, a concert, or any other event, we provide our clients top services. Whenever you need a ride for a large family or group of friends, we can accommodate your needs. To book the Limo & Party Bus, please call us today at 858.336.1894.