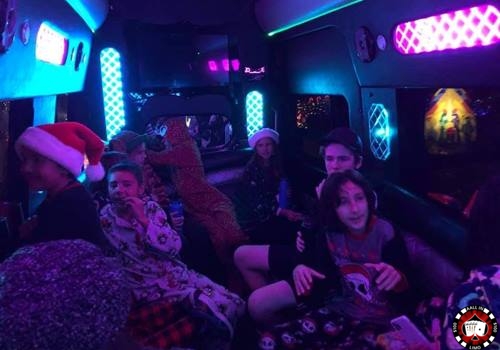 San Diego has one of the most spectacular Christmas lights installations. So spectacular, that they are guaranteed to instantly get even the Grinch in a holiday mood. This being said, we recommend you pack up some hot chocolate, put on your Christmas sweater (you know, the cozy one you like) grab your friends or family and head on to see the lights in style!
We've prepared a list that offers you the best experience of the San Diego Christmas Lights, which you can complete with a limousine ride that will glam up your tour. We may not have snow, but we sure have the Christmas spirit!
The best way to see these awesome Christmas lights is by booking a Christmas Lights Tour from Aall In Limo & Party Bus. We will drive slowly, so you can make a live video on Facebook, and show all your friends the best Christmas lights spots in San Diego, and also the party bus or limo you picked for this year's Christmas lights tour.
Here are our top 6 picks to view Christmas lights in San Diego County:
1. Candy Cane Lane, Poway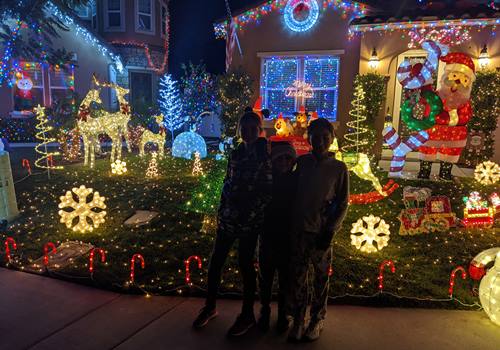 This sweet wonderland is definitely going to make you feel all warm and tingly with the holiday spirit! More than 100 homes are putting up their best Christmas decorations every year, to transform the neighborhood into one of the most popular destinations in San Diego to stroll through.
Some homeowners even put up bonfires and little stands on their driveway, where they sell hot chocolate and baked goods to visitors! If you wish to see these awesome Christmas lights on Candy Cane Lane please reserve a limo in advance, we get book really fast during the holiday season.
2. Jingle Bell Hill, El Cajon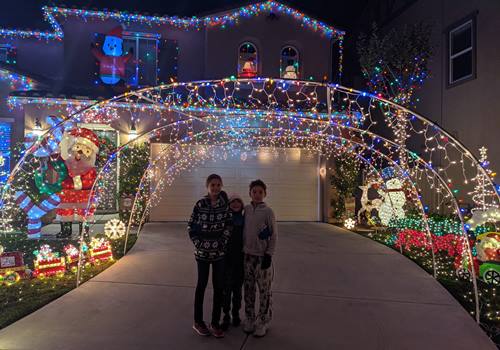 This little piece of Christmas cheer which is also known as "Pepper Drive Lights" features nearly 80 homes that bring their imagination to light each year, for the enchantment of visitors. With all kinds of creative holiday themes, they have grown to be one of the must-see spots for Christmas lights!
Aall In Limo & Party Bus can take you and your family in a stylish limo to see the beautiful Christmas lights on Jingle Bell Hill, in El Cajon. Make sure you reserve your limo today, because on holiday season all of our limos get booked really fast.
3. Christmas Card Lane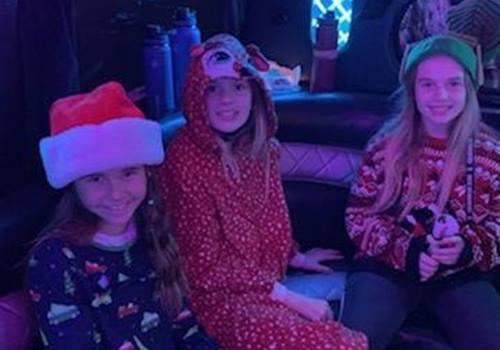 If you're looking to turn your vacation pictures into the perfect Christmas card, this is definitely the spot you need to be posing at! Each year, residents in this neighborhood decorate their yards with plywood depictions of cartoon characters or Christmas themes.
The tradition of these decorations started in 1982, with just a couple of houses and has now expanded to over 200 houses that transform a stroll this area into a magical experience. Book one of our stylish limos before they become unavailable. On holiday season our limos get booked fast.
4. Christmas Circle, Chula Vista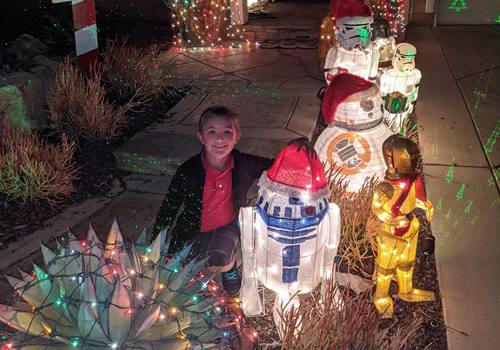 For almost six decades, residents in this area have been bringing the holiday spirit into their yards in creative ways, with bright Christmas lights and beautiful theme decorations.
You can expect to see everything from candy canes and beloved animated characters to Santa's helpers and the Nativity scene. This neighborhood is truly Christmas cheer at its finest! If you want to see the holiday lights on Christmas Circle in Chula Vista make sure to book a limo or a party bus for you and your family.
5. Carmel Mountain Ranch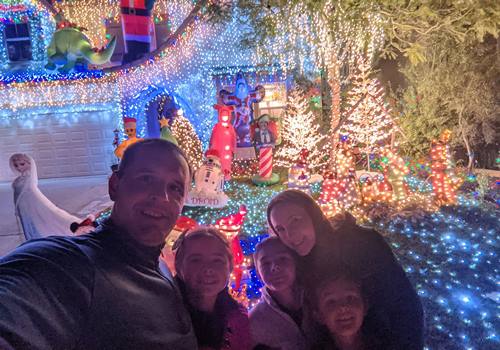 With almost 100 homes putting up decorations each year, this residential street has grown into one of the most visited spots around Christmas time, in San Diego.
If you're lucky, you might even end up in the middle of their annual block party where you can enjoy home-baked goods and a nice cup of hot chocolate! Celebrate the holiday season with a limo ride from Aall In Limo & Party Bus. We can take you and your family to see the lights in Carmel Mountain Ranch.
6. Knob Hill, San Marcos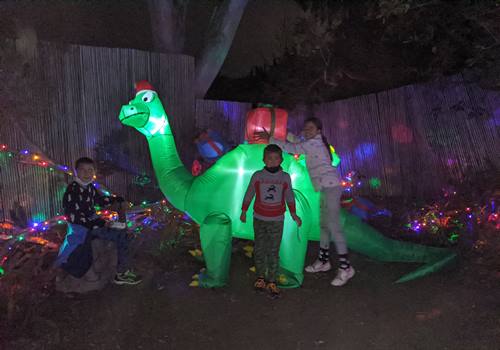 If you drop in by this neighborhood you might even encounter Santa, and give him your list of wishes for Christmas. With over 85.000 lights and brilliant decorations, Knob Hill is one attraction you won't want to miss.
No matter the age, it's guaranteed to put you in the cheeriest holiday mood! This holiday season our limos get booked really fast, therefore if you want to reserve a limo to see the lights on Knob Hill in San Marcos, you should book one today.
Book a Limo For the San Diego Christmas Lights Tour From Aall In Limo & Party Bus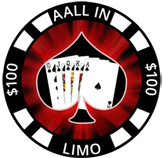 Glam up your Christmas this year, with an elegant limousine or a party bus! Our drivers are ready to take you to and from whatever event you're choosing to enjoy this year. If you want to enjoy Christmas lights, we can plan an itinerary together so that you get to see as much as you want.
As we're quite busy this time of the year, you need to book your limo in time so that you're sure that you get to enjoy all the comfort our transportation has to offer. Call us at 858.336.1894 and book your limo now!