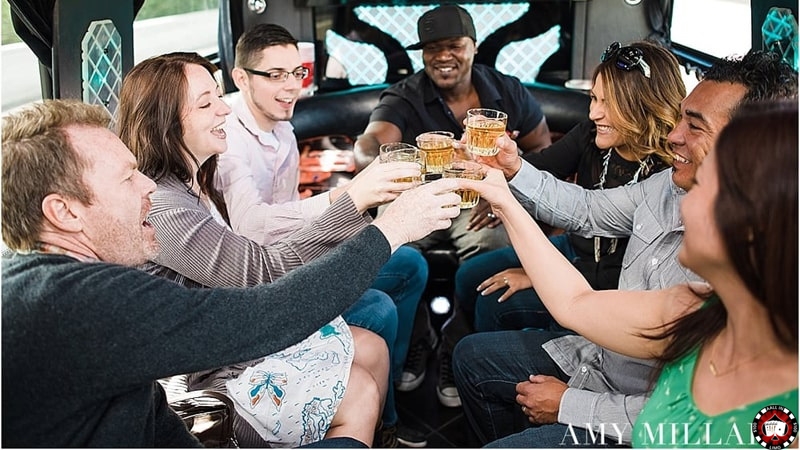 If you have decided to party in style with your friends or family, you will need a vehicle that best fits your needs.
A party bus provides a whole new level of excitement and endless fun for passengers of all ages, mainly because they offer added space and amenities that make them stand out from regular vehicles and are highly sought after when it comes to big parties. Apart from all the necessary amenities, a party bus also provides you with:
Party Bus Designs And Features
There is a variety of buses out there, each uniquely designed, and there are two vehicle designs that are commonly used: the popular front-engine cab-chassis design and the rear-engine diesel-pusher:
The front-engine cab-chassis design is an oversized airport shuttle with a limousine interior and possibly the most popular limo bus version and fits around 20 to 30 people inside. It is often referred to as a minibus, and it provides a rich array of features specially designed to provide fun and safety without sacrificing comfort, all on four wheels.
The rear-engine diesel-pusher design is a perfect choice if you have got a big party planned. As a club on wheels, it fits up to 50 people, comes with VIP rooms, plenty of space to move around, hardwood floors, and many more options to make your event a total hit.
These vehicles feature luxurious styling, often with leather sofas and funky upholstery designs. Most are outfitted with amenities such as:
a large flat-screen television (40 inches or bigger) with a DVD player
high-quality home entertainment system with surround sound and iPod hook-ups
video game systems, minibar, leather couches
hardwood dance floor, disco lights, smoke machines, karaoke machine
Generally, a party bus is a custom conversion of a regular touring bus and is basically a nightclub on wheels, suitable for people of all ages.
Some of the party buses are better for a night out, while others are better for airport shuttle or wedding service. Whatever event you choose to book the party bus for, we guarantee that you will be turning heads on the highway!
Party Bus Industry Data And Statistics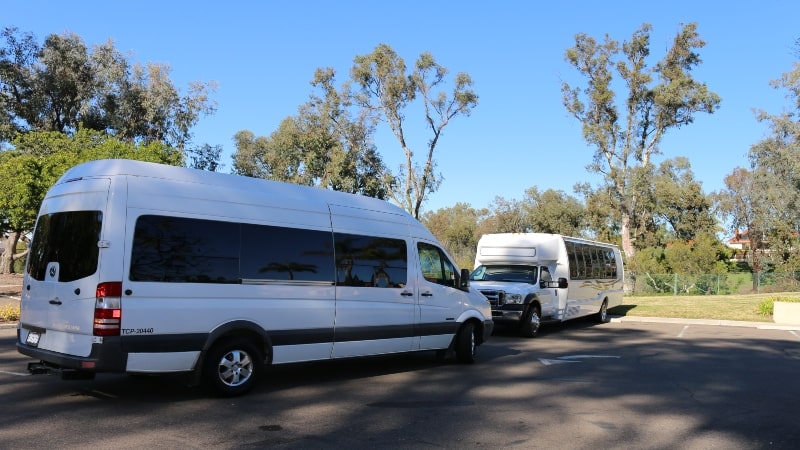 PARTY BUS OPERATORS STATISTICS:
55% small fleet operators (1-10 vehicles)
32% medium-sized fleets (11-50 vehicles)
13% large fleets (+51 vehicles)

The first limo bus started the trend back in 1988, and since then, the industry has bloomed.
The annual LCT Fact Book operator survey drew more than 460 respondents with fleets varying in size.
Some of the biggest party buses ever made and in use can hold up to 90 people!
Our Ford Party Bus can only hold up to 20 people, but we guarantee that they will travel comfortably and in style. Also, one of the most used party bus models is the Ford F550.
Common Party Bus Styles and Makes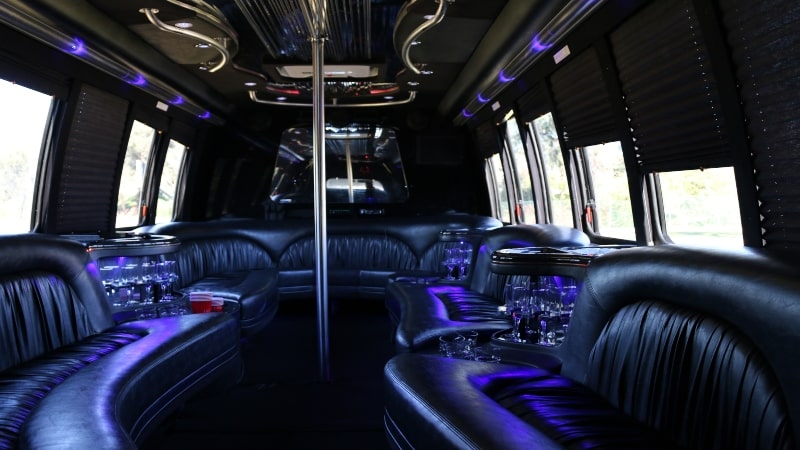 Ford F550 Party Bus
Party buses come in all styles, offering seating capacities ranging from 7 to pretty much any amount of passengers. Our Ford F550 can hold up to 20 passengers and has a Krystal Koach KK28 body, with:
Alpine AM/FM CD/DVD player with iPod and iPad
automatic climate control, fiber optic lighting, starlight ceiling/mirrors
full-length leather u-seat, privacy blinds, 5% tinted window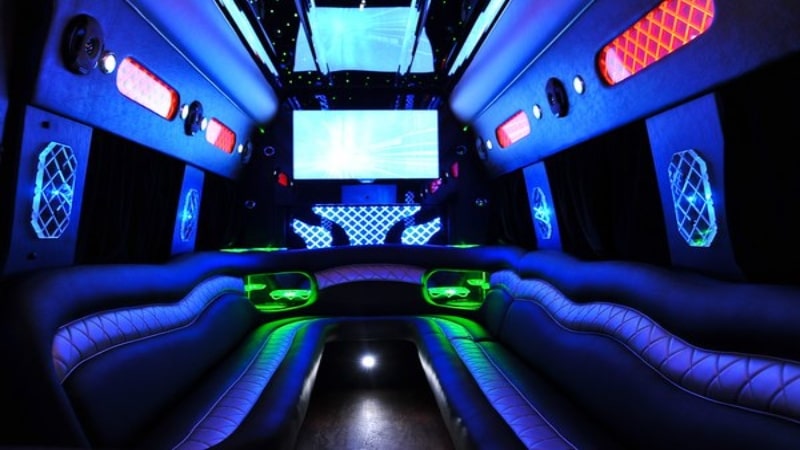 Mercedes Sprinter S-type Party Bus
Our Mercedes Sprinter S-type party bus is a diesel with a Krystal Koach body, perfect for medium-sized groups. It can accommodate up to twelve people and is equipped with:
plasma TV
premier sound system
white exterior
tinted windows
chauffeur intercom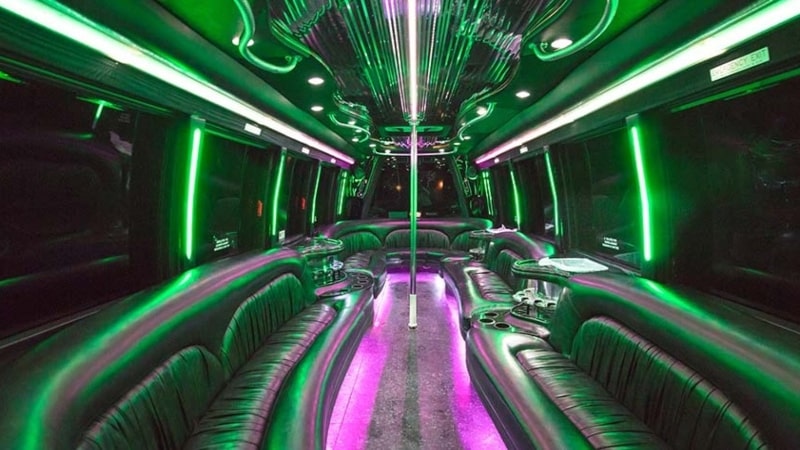 International 3200 KK38 Party Bus
Another popular party bus on the market is the International 3200 KK38. It can accommodate up to 32 passengers and may come equipped with the following features:
drink bars
surround sound system and laser light shows
electronic entertainment devices
dance pole
privacy divider and blinds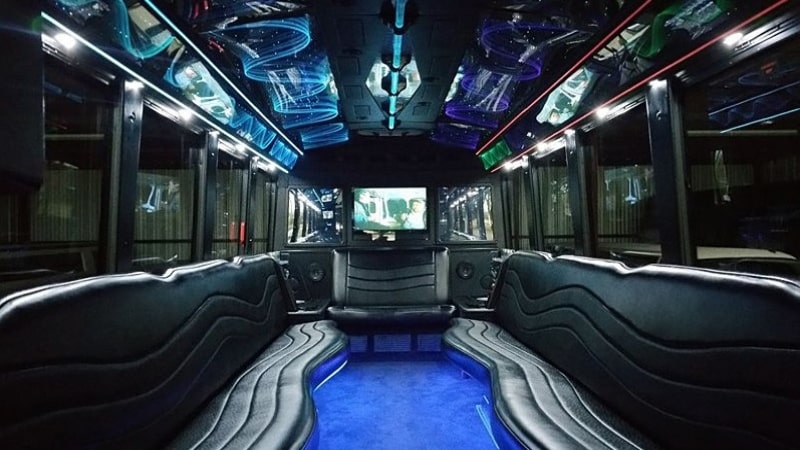 Chevrolet C5500 Party Bus
The Chevrolet C5500 is yet another common type of party bus, customized with a luxurious interior that holds up to 28 passengers.
It can be equipped with:
flat-screen TVs and Bluetooth sound system
spacious leather seats
mood lighting
stereo and CD/DVD player
Party Bus Regulations
The Utilities and Transportation Commission (UTC) is in charge of regulating safety for charter bus companies, which also includes party buses. Limo companies and party buses under UTC regulation meet the following criteria:
the party bus has a seating capacity of more than 14 passengers behind the driver;
the company that operates such a vehicle advertises itself as providing party bus services, or words to that effect;
the vehicle's interior has been altered from its original factory condition by adding an enhanced audio system, flat-screen TVs, DVD players, laser lights, dance poles, karaoke equipment, bar, removal of seats for greater floor space, etc.
UTC safety rules parallel federal safety rules for all passenger bus companies, whether auto transportation or charter companies. UTC rule WAC 480-30-191 applies for vehicles with a seating capacity of 15 passengers or fewer and requires the company to obtain and maintain insurance levels of $1.5 million. Companies that own vehicles with a seating capacity of more than 15 need to get and keep insurance levels of $5 million.
The UTC has also adopted federal safety rules in WAC 480-30-221, which requires each regulated company to meet those federal safety regulations for the following:
commercial driver's license standards
driving motor vehicles, including hours of service
drug and alcohol testing programs
preservation of records
safety fitness procedures
training requirements
safety requirements for vehicles in operation, including inspections, parts and accessories, repairs, and maintenance
Another common issue when it comes to party buses is underage drinking. However, in 2011, the state of California passed Bill AB 45, which contains laws specific to companies that operate party buses and laws that regulate the consumption of alcohol by underage passengers while riding in such a vehicle. Thus, a charter bus company that will serve alcohol/allow alcohol to be served must provide a designated chaperone to all members under 21 of the charter party. The chaperone's duties are as follows:
they must sign a form that specifies the chaperone's responsibilities
they must check the identification of all passengers to determine if any are under 21
they must read a statement that alcohol is prohibited for any person under 21
they must notify the driver if, at any time during the drive, a minor consumes alcohol
The law also holds the chaperone liable for "any reasonably foreseeable personal injury or property damage that is proximately caused by the consumption of alcoholic beverages by a person under 21 years of age."
The chauffeur must stop immediately and return to the pickup point if a passenger under 21 has consumed alcohol. Also, if the chauffeur finds that passengers were consuming alcohol and did not make prior arrangements, including the naming of a chaperone, they must stop the trip immediately and return to the pickup point. If the driver fails to follow the law, it is considered a misdemeanor!
Furthermore, in our state, limousine transportation companies are required to meet the specific standards set by the California Public Utilities Commission (CPUC). A limo company licensed with the CPUC complies with the laws related to passenger capacity, liability insurance, and others.
A TCP license is issued by the State of California after the limo company proves to the CPUC that they are fully bonded and that their drivers submit to random drug testing whenever necessary. The TCP license number should appear on the website of the company you are interested in booking with and must appear on the vehicle that arrives to pick you up. NEVER book with a limo company that cannot show you their license and bond when you ask for them!
Party Bus vs. Limo Bus
Surprising or not, the terms limo bus and party bus refer to a large motor vehicle, usually derived from a conventional bus or coach, which is designed and specially modified to carry anywhere from 10 people to 40-50 people. These vehicles are generally used for recreational purposes and have a lot of advantages for a group. No matter the name, these vehicles share a bus exterior and a limo interior.
Have you ever thought about the advantages of booking a party bus? If not, here are a few ideas that prove party buses have an unbeatable entertainment factor:
added space
an abundance of features
splitting the bill makes it affordable for everyone
price point can be as low as $10 per person for a smaller bus and $8 for a larger bus
passengers can dance, stand up, stretch out and socialize
increased safety for passengers
access to fancy amenities
highly customized individuality
high ceiling and a wider vehicle will make you feel like you are not moving on wheels
perfect for large wedding parties, bachelor/bachelorette parties, proms, etc.
you are practically starting the party the minute you hop on the bus
How to Get the Best Party Bus Rate
There are currently over 9,000 passenger carriers registered in California, all competing against each other and offering competitive prices and packages. It is easy to get overwhelmed when browsing for a limo company, but how do you choose the ideal company without spending a fortune on transportation or even putting your life at risk? Here are five tips to make booking easier and safe:
1. Educate yourself prior to hiring a limo company.
There are a few factors you need to be aware of before booking a limo. These factors include:
different levels of chauffeur training
fleet quality
insurance
other basic rules that apply to limo operators
This will make it easier for you to tell the differences between a respectable operator and a scammer. We encourage people to compare everything before deciding which company's services they should use.
2. Check the operator's license on the Internet.
You can do so by checking California Public Utilities Commission's Transportation Carriers Lookup application HERE and entering the name of the operator you are interested in. The application will provide you with essential information such as:

carrier ID
carrier status
carrier name
carrier phone
carrier DBA
contact name
mailing and physical address
list of authorities for the carrier ID
list of insurance policies for the carrier
You can also identify companies at www.nlaride.com, where you can find information about all members of the National Limousine Association. You have access to complete contact information for each operator member company worldwide, including an email link for price quotes and website address.
3. Price for services and what is included.
When shopping around for the best deal, make sure you do not choose the lowest rate. Cheap does not always mean best! Rates can be either fixed or hourly, depending on the operator. The operator must inform you about the final price for your booking, what services it includes, and what you need to pay extra for. Always check your contract before signing! Make sure the final price you pay equals the price mentioned in the contract.
4. Ask to see the vehicles before booking.
Any respectable company will allow you to see their vehicles and will provide you with basic information about them to ensure you book the right vehicle for your needs. Ask any questions regarding the vehicles and watch closely whether you are being told the truth or the owner or whoever is in charge of the limos is lying. You can also ask whether they are properly insured or not.
5. Double booking.
In the race for profit, many ghost operators double book their limousines, an illegal and potentially dangerous situation for your group. If you cannot avoid such situations, make sure you know everyone that gets on your bus and don't let any strangers ride with you. Before you book with any company, a modern way to check their background is to read their reviews on the Internet.
Aall In Limo & Party Bus Complies With All Regulations
As San Diego County's best limousine service since 2005, we take great pride in what we do.
We hope to inspire others in our industry to act accordingly.
Do not let price be your determining factor when choosing a limo company for your event when choosing limo transportation in San Diego.
Call or text us at 858.336.1894 for bookings and quotes!