Half a century sounds a little bit spooky, but don't panic. Your 50th birthday is not the time to look back and say goodbye to youthfulness. It's the time to look ahead and embrace your new, utterly mature self.
No matter how this milestone age makes you feel, one thing is for sure. You must celebrate it properly together with friends and family. For a memorable 50th birthday party we recommend one of the following ideas:
Go on a Beer Tasting Tour Throughout San Diego
Visit Some of the Best Wineries in Temecula
Go Out There and Dance
Have a Bold Night out at a Casino
Enjoy a Lavish Dinner at a Cozy Restaurant
Book a Limo for Your 50th Birthday from Aall in Limo & Party Bus!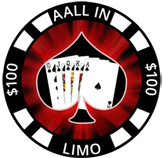 While you celebrate your 50th birthday you shouldn't worry about having a designated driver for the day or about parking spots and traffic? We know how important this day is, so ensuring that you have a great time is one of our primary goals! Sit back, relax, and enjoy the ride as we take you safely to and from any location you wish to visit, whether in San Diego or Temecula. We look forward to helping you plan a wonderful event! Call us at 858.336.1894 and book your limo today.