Commitment to Excellence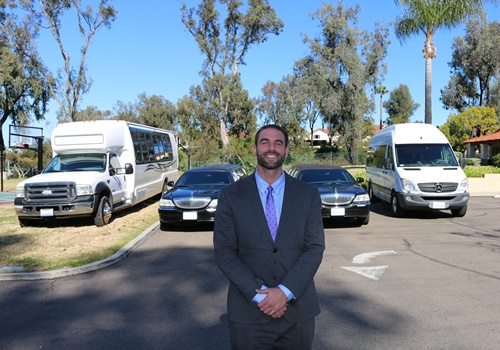 Joe was born in Michigan in 1978 and moved to San Diego in 1985. He graduated from Cal State University and developed a passion for wrestling. Joe worked as a Marine for 6 years and is currently coaching wrestling at Rancho Bernardo High School.
In 2010 he started driving limos on weekends only and now he is an affiliated chauffeur with Aall In Limo & Party Bus. From all the services Aall In Limo provides the wine tours are his favorites.
Joe Bellavia loves driving for hours, even days. He has a clean driving record; his number one priority with this job is safety.
Our Promise & Expectations
If you are looking for a limo service in San Diego that will exceed your expectations, call Joe at Aall In Limo & Party Bus. The limo company offers groups of all sizes, from individual business travelers to large birthday and wedding parties, with luxurious limo rides anywhere in San Diego and Temecula Valley.
The San Diego limo company helps individuals arrive safely and in style to a number of events, including weddings, bachelor and bachelorette parties, Temecula limo wine tours, birthday parties, romantic dates for two, and even business meetings.
To learn more about Aall In Limo & Party Bus or to book a limo or a party bus for your upcoming event, call Joe today. He will personally make sure that you and your guests have an experience you won't forget!