Commitment to Excellence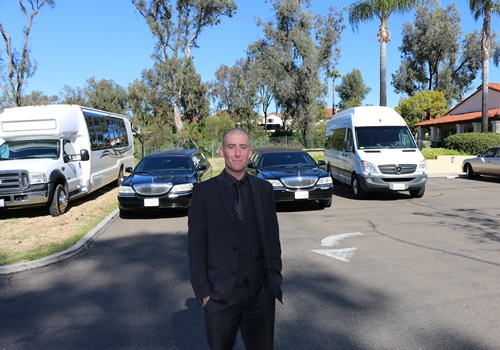 James Siegrist originally from New York, born on June 1st 1980, moved to the bay area in 1989 and then finally settled down in beautiful sunny San Diego for the ever expanding business opportunities in 2000. With almost fifteen years in the luxury transportation business in southern California and having worked for some of the top limousine and party bus companies around with a wealth of experience there is little he has not already seen or done in the industry and even fewer things that he does not come prepared for.
He did thousands of Temecula wine tours, bachelorette parties and an uncountable number of nights out on the town in San Diego's thriving Gaslamp District. His number one priority on any type of job has always been to anticipate the clients' needs and provide 100 percent client satisfaction, clients can always tell he truly loves his job and always goes above and beyond all expectations. He wants every single client at the end of the day to leave feeling that it was a pleasure doing business with Aall In Limo & Party Bus. His personal hobbies include: hiking, skateboarding, snowboarding, surfing.
Jim's Reviews on Yelp
Our Promise & Expectations
Committed to high standards and driven by the idea of providing nothing short of excellent customer service, James personally makes sure that your limo arrives in time to pick you up for your event. Your luxurious limo will always be in perfect, flawless condition and packed with all the necessary amenities to ensure your ride is as perfect as it can be. Very knowledgeable and familiar with San Diego's hot spots, James can also help you pick venues of interest where you can have lunch, dine or dance the night away.