It is well-known that girls dream about their weddings ever since the concept is presented to them when they are little. They think about it as the most beautiful moment of their lives, and they want it to be perfect.
While men might be looking forward to the bachelor party rather than the wedding itself, women dream about their prince charming and impressive wedding dress all day long.
But an event like this one cannot be truly perfect without the right venue to celebrate this very important moment. San Diego is the best choice when it comes to weddings.
Every day is an ideal one for a wedding, due to the:
the plenitude of beautiful venues
large beaches
sunny weather
Couples that have decided to make the big step have a variety of places to choose from. Whether you were thinking of a classy hotel, a picturesque park, or a tropical garden, we have made a list of some of the most amazing wedding venues in San Diego.
Horton Plaza Park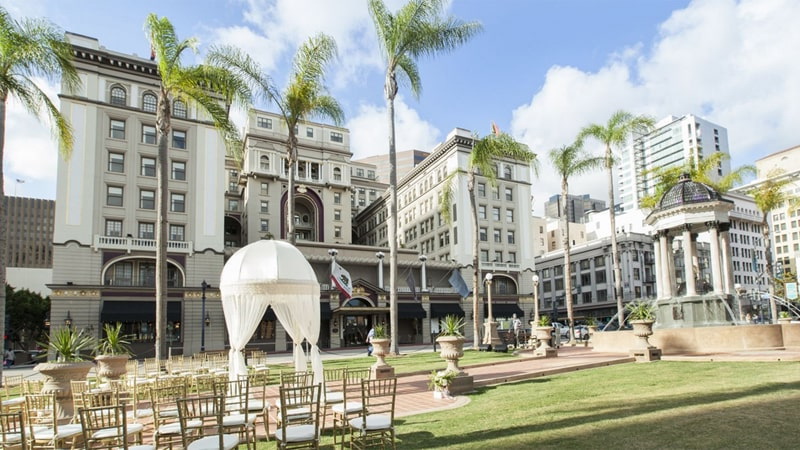 Couples interested in a modern, open-air wedding should consider Horton Plaza Park as a wedding venue.
This venue is awesome for the outgoing couples who need loads of open-air space and don't mind being on display.
A beautiful place during the day, Horton Plaza Park turns into a picturesque spot during the night. Not to mention that there is plenty of space for guests to chat and take pictures.
This shiny new urban spot is equipped with three spaces to choose from:
the Amphitheater
South Plaza
the Historic Park
The first two are more spacious and have a very trendy decor, while the last one has a considerably smaller capacity and a verdant scene with beautiful walkways. Each and every one of the three spaces is unmistakable to the general population.
Excited to have a great wedding at Horton Plaza Park? Aall In Limo & Party Bus can help you take your guests there.
Tom Ham's Lighthouse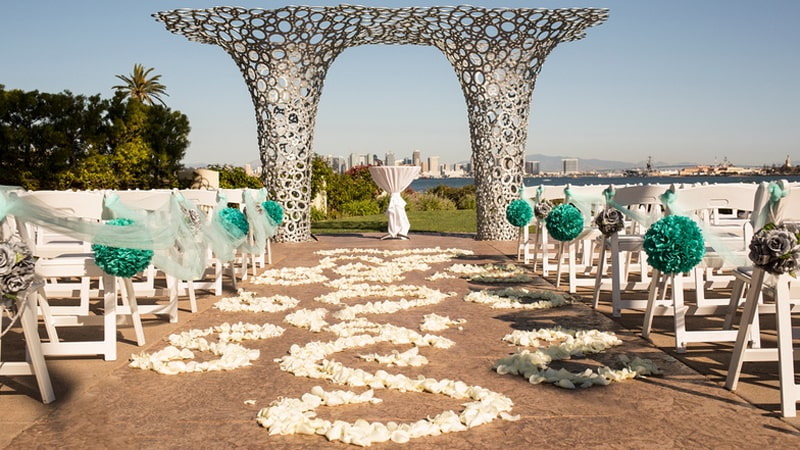 Tom Ham's Lighthouse is one of San Diego's icons, offering extraordinary views of the Coronado Island, San Diego skyline, and the bay. There are two reception spaces:
California Room. This place can accommodate more than 200 guests and is equipped with an impressive dance floor and a wrap-around patio.
The Harbor View Room. If you're thinking of a more intimate ceremony, this is the spot for you. It can accommodate up to ninety guests and is also provided with a patio and dance floor.
Tom Ham's Lighthouse is definitely one of the best venues for a stunning wedding ceremony in San Diego. Also, if you love taking pictures, this place will guarantee the most beautiful wedding photos you have ever seen. Interested in this venue, but you are worried about transportation? Leave it to Aall In Limo & Party Bus and enjoy your wedding.
Catamaran Resort and Spa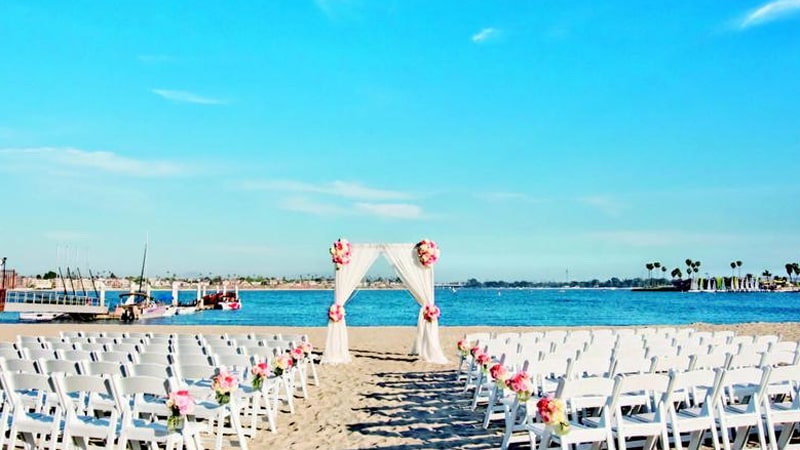 Located in Mission Bay, Catamaran Resort & Spa is the perfect place for couples who are seeking a tropical beach wedding.
The venue is one of the most popular ones in San Diego and provides three ceremony spaces:
the north beach lawn (accommodates more than 300 guests)
the on-the-beach site (accommodates no more than 200 guests)
tropical gazebo (accommodates up to 70 guests)
The tropical resort creates an exotic yet elegant atmosphere with the help of palm trees, waterfalls, and colored birds. Enjoy a tropical feel and pledge your love on the golden sand. If you want to have an extraordinary night, all you have to do is choose one of the spaces at Catamaran Resort & Spa. Moreover, Aall In Limo & Party Bus can help you with transportation.
Flagship Yacht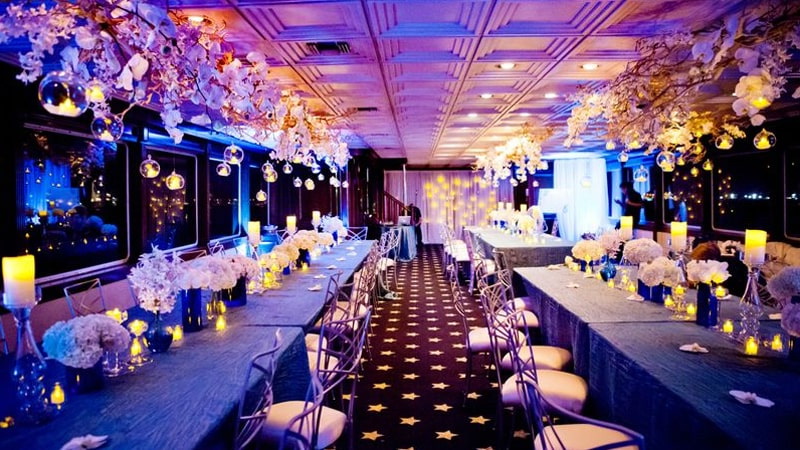 A wedding on the yacht is the perfect definition of San Diego. The advantage of a Flagship Yacht is the flexibility that it offers, making sure to meet every couple's needs. Their professional coordinator helps the future newlyweds choose the right photography services and flowers.
You can opt for a captain ceremony, DJ musical services, and even for a themed décor. The wedding packages provided by Flagship Yacht include:
coffee or tea service
an event coordinator
a champagne toast
an optional wedding cake
Moreover, the calmness of the amazing San Diego Bay and inviting shorelines create a romantic atmosphere, perfect for an unforgettable wedding. Let your adventurous style come to light on the most beautiful day of your life to create a lifetime experience. Interested in a yacht wedding? Book your event and let Aall In Limo & Party Bus take you to the location of your dreams.
The Westgate Hotel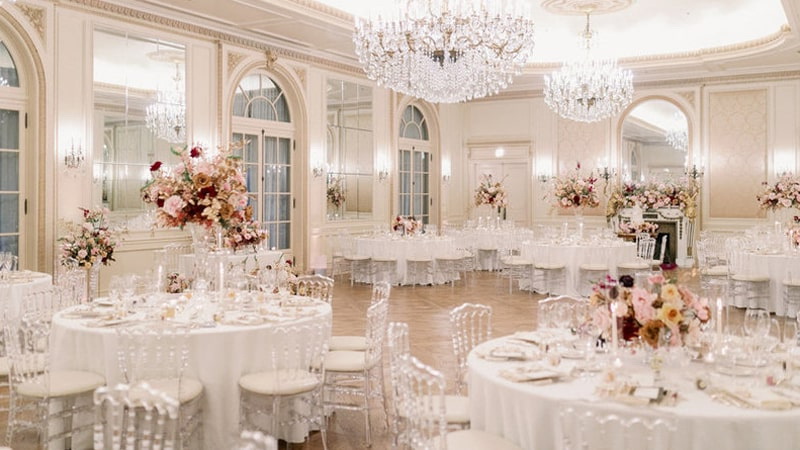 Located near the San Diego Bay, this venue is an incredibly beautiful and spacious place for a unique wedding ceremony and reception.
Whether you are thinking of a great party or an intimate celebration, the Westgate Hotel can comfortably accommodate your guests on the most important day of your life while also:
offering a wide range of spaces to choose from
ensuring skilled services
creating a romantic atmosphere
The Grand Ballroom provides an extensive place to dance and dine, and the Rooftop Terrace offers incredible views of the city below. Moreover, the Westgate Hotel is the perfect choice for couples whose guests are traveling by car or plane as its location ensures easy access to the highways and airports nearby. Ready to be delighted in every way by their service? Keep it classy! Rent a stylish limo from Aall In Limo & Party Bus, and they will take you to this amazing venue on your wedding day.
Crowne Plaza San Diego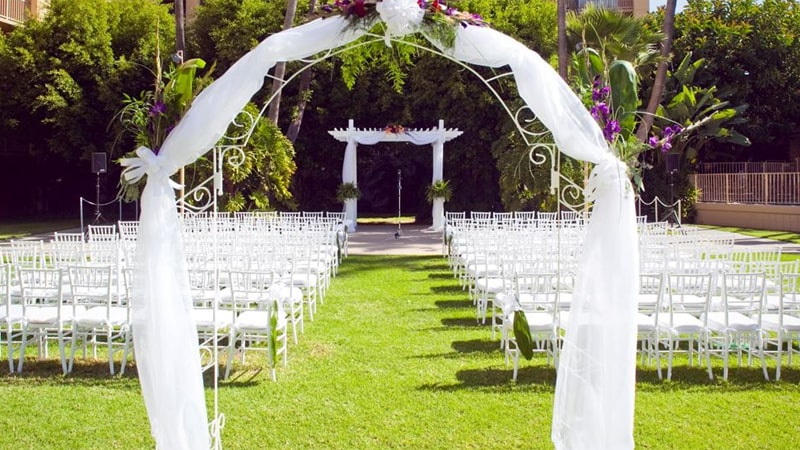 If you want a wedding with style, the Crowne Plaza is just what you need. Enjoy a great cocktail on the poolside patio after pledging your vows:
in an intimate ceremony
under the warm California sun
The Grand Hanalei Ballroom is a neutral space, perfect for any kind of wedding, so you can simply make it according to your vision. You can add candles, special lights, or even colorful flowers to create an atmosphere for your and your lover's taste.
This venue ensures a wedding day filled with lots of fun and joy as you dine and dance with your guests. Moreover, there's no need to worry when the celebration is over since a nice bedroom is waiting for you right in the corridor. Once you have decided that this is the place you were looking for, all that is left to do is rent a limo from Aall In Limo & Party Bus to keep it classy all the way.
Fruitcraft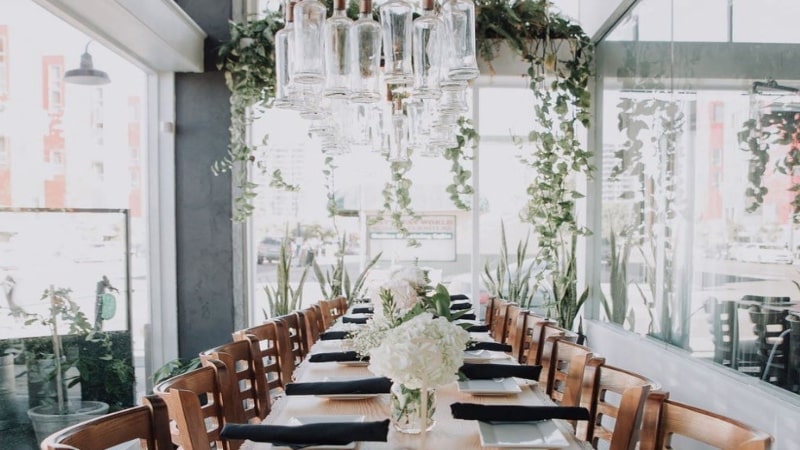 With a maximum capacity of 150 seats, FruitCraft Fermentery and Distillery is a unique location in the heart of Hillcrest, a great intimate venue for weddings and other special events.
People who have celebrated their wedding ceremonies here described the big moment as "a once in a lifetime fairy tale."
The very spacious spot offers:
a perfect and safe patio for the ceremony
an event venue decorated with lush greenery as an extension of the outdoor space
The place provides all your wedding needs, including bar & catering services, as well personalized decor options to choose from, and custom made tables and lighting. Besides the space that feels infinite, you and your guests will also experience great service from the skilled and dedicated staff, bound to make the event a big success.
Excited about a wedding at Fruitcraft? Aall In Limo & Party can provide the best transportation for you and your guests.
Hilton San Diego Resort & Spa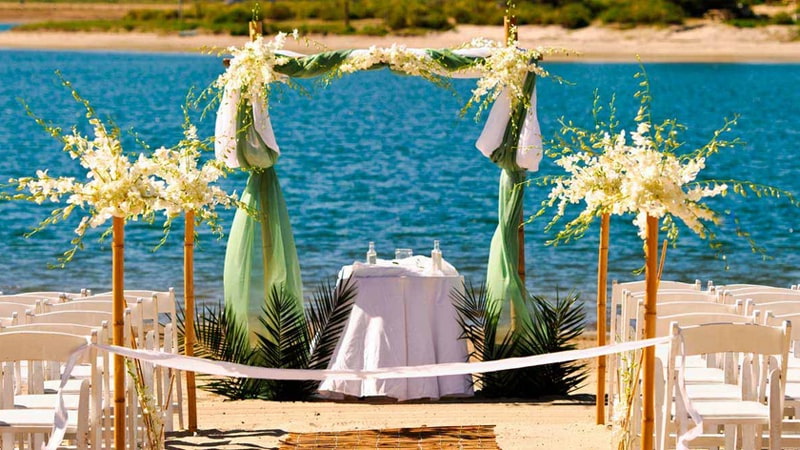 This venue is bound to create the perfect wedding for you and your lover. Just imagine a setting with lush greens and beautiful flowers to tie the knot in. Hilton San Diego Resort is the right place for a San Diego dream wedding.
Whether you choose to exchange vows on the beach or surrounded by the tropical palm trees in the Garden, the venue can also:
accommodate both small and large crowds
provide five wonderful places to choose from for the dinner reception
Each of the spaces is unique in its own way and guarantees you'll get the most of this special day. So whichever you choose, Hilton San Diego Resort & Spa will provide a wedding to never forget. Now that you've found the right venue for you, all you have left to do is book the appropriate transportation. Let Aall In Limo & Party Bus help you with that!
Riverwalk Golf Club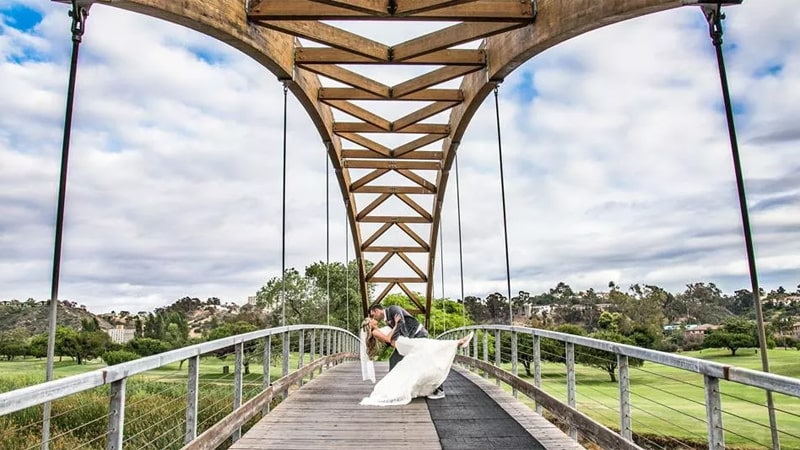 Riverwalk Golf Club, the heart of Mission Valley, offers a wide range of both indoor and outdoor spaces to choose from for your perfect wedding. Known for the beautiful natural elements, the venue provides:
a unique atmosphere for such events
flawless service from nice and experienced staff members
The picturesque outdoor terrace with a view of the amazing wood bridge over the San Diego River offers a great setting for ceremonies. Not to mention that the beauty of the valley adds to this incredible spot, as well.
The Presidio Room, with a California-inspired décor, is provided with nice pieces of furniture and absolutely incredible floor-to-ceiling windows, making it easy for the guests to admire the stunning views of the hills and lakes around. Make your wedding even more special by renting a classy limousine to take you to this beautiful venue. Book now from Aall In Limo & Party Bus!
The Prado at Balboa Park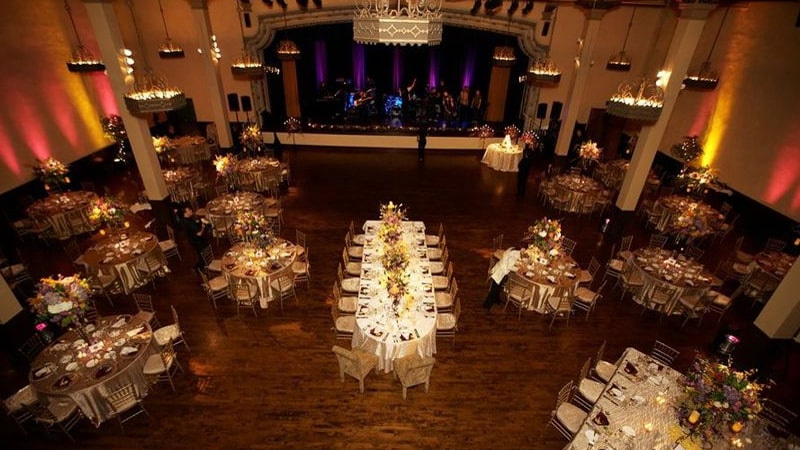 This venue is one that manages to bring the grace of yesterday and the traditions of today in one place and thus create a dream location for weddings.
The picturesque multi-level terraces provided with beautiful fountains and amazing landscapes have made The Prado one of the best wedding spots for San Diegans and more. The Grand Ballroom is a place where elegance floats in the air by means of:
beautiful wood art
impressive chandeliers
high ceiling
The second floor, however, is perfect for smaller parties so whether you are thinking of a great reception or an intimate wedding, this venue is equipped with everything you need. The place has a maximum capacity of 320 persons, both indoors and outdoors, and offers the advantage of a flexible start time. With an amazing view of Balboa Park, The Prado's skilled and nice staff members ensure a flawless serving for you and your guests. 
Book a Limo for Your Special Event at Aall In Limo & Party Bus!
Worried about getting yourself and your guests to your wedding venue?
The professional drivers at Aall In Limo & Party Bus can ensure an enjoyable ride for your dear ones and make things easier for you on the most beautiful day of your life. You can make your wedding even more memorable.
Whether you need to arrive at an elegant hotel, a tropical resort, or a charming garden, call us, and we will help you choose the right transportation for everyone.