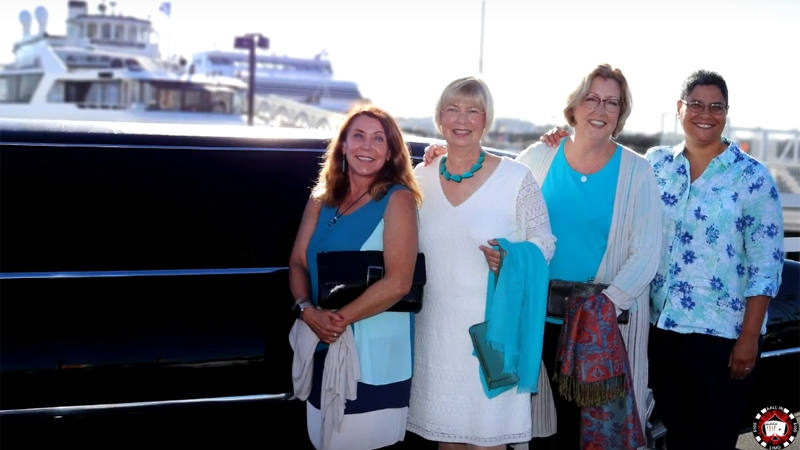 The LUNG FORCE Gala is a dynamic and devoted community meeting that celebrates the mutual power of the breath and voice to stand up against lung cancer. Aall In Limo & Party Bus had the honor of sponsoring the 2017 LUNG FORCE Gala.
Our 4 survivors celebrated this wonderful event on June 9th aboard the Inspiration Hornblower. They had a wonderful evening full of entertainment and heartwarming stories. When it comes to lung cancer, the leading killer in the United States only a Force of numerous people can confront it.
Take into consideration the following facts:
Each two and a half minutes, a person in the U.S. finds out that he or she has lung cancer
In the last 39 years, the rate of new lung cancer cases for women has nearly doubled.
Anyone can develop lung cancer.
Limo Transportation for Our 4 Amazing Survivors
Our 4 wonderful ladies attended the 2017 LUNG FORCE Gala and had the pleasure of enjoying some quality time with the amazing people aboard the Inspiration Hornblower. The evening was full of entertainment, special guests, and great stories.
The food according to our ladies was absolutely great and the San Diego evening view aboard the Hornblower was one of a kind. Our lovely ladies choose the Black Stretched Limousine to attend this fantastic annual event in San Diego.
Our chauffeur took our 4 ladies safely and in style to the 2017 LUNG FORCE Gala and made sure that the limo was spotless and fully stocked at all times. Aall In Limo & Party Bus offers transportation services in San Diego and Temecula and can accommodate all of your needs.
If you wish to see how much fun our clients had at the 2017 LUNG FORCE Gala then check the video below. Spoiler alert! THEY ROCKED!
Interested in Attending Next Year's Event?
If you love socializing with family, friends, and colleagues while showing support to the people you know that have been affected by lung cancer disease then the LUNG FORCE Gala is just right for you!
The LUNG FORCE Gala celebration usually takes place at a venue in San Diego and celebrates the mission of the American Lung Association, while sharing a wonderful evening of good food, dancing, and celebration, all for a decent cause.
If you wish to take part in this respectable event but don't have a designated driver yet, Aall In Limo & Party Bus has you covered. Our drivers are experienced and know all the great venues in the San Diego area. We are rated as San Diego's 1st limo company on Yelp and TripAdvisor and we strive to offer excellent services.
Book a Limo for Your Next Event in San Diego!
If you wish to attend next year's LUNG FORCE Gala celebration Aall In Limo & Party Bus is here to offer you and your friends transportation to and from the desired event. Our chauffeurs will be there on time to pick you up and will drop you safely at the fantastic event. Choose between a stylish Stretched Limousine and a Party Bus and let's hit the road! For further information and booking call us at 858.336.1894.