The last weekend of April is almost here which means that we will be happily attending the annual "Taste of Temecula Valley" event, hosted by the non-profit Temecula Education Foundation and held at Town Square Park, in historic Old Town of Temecula, California.
The event will start on Friday, the 28th at 6 pm and will end on Saturday, the 29th at 7 pm, and in this interval, we will enjoy concerts, delicious foods and drinks, and child-friendly attractions.
On Friday, the main attraction of the evening will the awesome concert held by Safety Orange, as an opening band, and Lee Rocker, as a headliner and if you miss the opening act on Friday, we have good news, you will be able to see Safety Orange again on Saturday. 
Taste of Temecula Valley - Event Overview
Awesome TOTV Concerts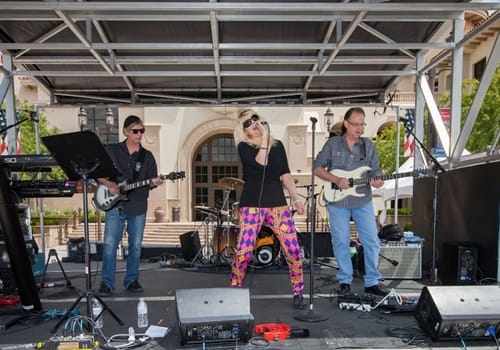 The guys from Safety Orang named their band after one of their surfboards, their music is inspired by awesome artists like Sublime, Bob Marley, Green Day, and Red Hot Chili Peppers, and if you had to attribute them to specific genres it would have to be something like beach/reggae/rock. We listened to some of their music and they sound awesome, they are fun and will make a perfect soundtrack for a day of casual relaxation and of hanging out with friends and family.
The TOTV headliner, Lee Rocker, needs no introduction as he sold more than 10 million records with his band the Stray Cats, being among the pioneers of the MTV generation. Lee and the band were on the cover of the Rolling Stone mag, were invited on SNL, toured with the rock legends the Rolling Stones, and on Friday we will have the pleasure to see him live at Taste of Temecula Valley, where he will rock our socks off.
Delicious Foods and Beverages
As we mentioned before, music is not the only thing that we will find at TOTV, as the organizers promise that we will be delighted by the wide range of delicious foods and beverages. If you are a foodie, like us, you will be happy to learn that among some of the food providers at TOTV you will find Devilicious Eatery, Rustico Ristorante & Pizzeria, Crab Boil Catering, Bluewater Grill, Nothing Bundt Cakes, Hajia's Ghanaian Cuisine, and many others. Additionally, for those of us who enjoy a glass of wine or a pint of beer, we will be served by Karl Strauss Brewing Co., South Coast Winery Resort & Spa, Hangar 24 Craft Brewery, Coldcock Whiskey, Wiens Family Cellar, Joya Sangria, and many others.  
You are probably thinking that this sounds more like an event dedicated to grown-ups, but don't worry, Saturday is family day and the youngsters will also have a lot of fun, as they will be entertained by the guys at Jolly Jumps, who will provide bouncy castles, carnival games, face painting, and other activities.
We have to admit that this year's edition of Taste of Temecula sounds very promising, great music, delicious food, refreshing beverages, not to mention the fact that we love the location of the event, a place surrounded by antique stores and charming boutiques.
Before you call your friends and decide what you are going to wear, you need to know that on Friday, the events are dedicated to adults and on Saturday you can bring your children and enjoy the day with your family, general admission passes are 10 $/day for adults and children 12 and under receive free admission, and tickets are available both online and at the gate.
Additionally, the organizers don't recommend bringing lawn chairs, as they are not permitted and dogs are only allowed if they are certified service animals. Also, it is important to remember that this event is a community fundraiser, and all the proceeds from this event will be invested in curriculum support for the students of Temecula Valley Unified School District. You can find more details and information the Temecula Education Foundation's website.
Below you will find a video of last year's event.
"The foundation's goal is to alleviate the fundraising burden from parents and administrators by planning events that benefit all schools in the Temecula district. Donations are tax deductible to the fullest extent of the law, and the raised money will support education in the arts, sciences, and technology – areas that otherwise will suffer further decline." - TVFEE Chairman Mark Katan
Book a Limo for the 2017 Taste of Temecula Valley Event!

We, at Aall in Limo & Party Bus, can be at your service for the Taste of Temecula Valley event if you want to travel in style. You can choose one of our three different rides and we will make sure that you will feel comfortable and have a great time from the moment you leave your house, to the moment that you arrive at the event. If you have already booked your limo, we thank you and we will see you soon, and if you haven't booked one yet, contact us today at 858-336-1894.