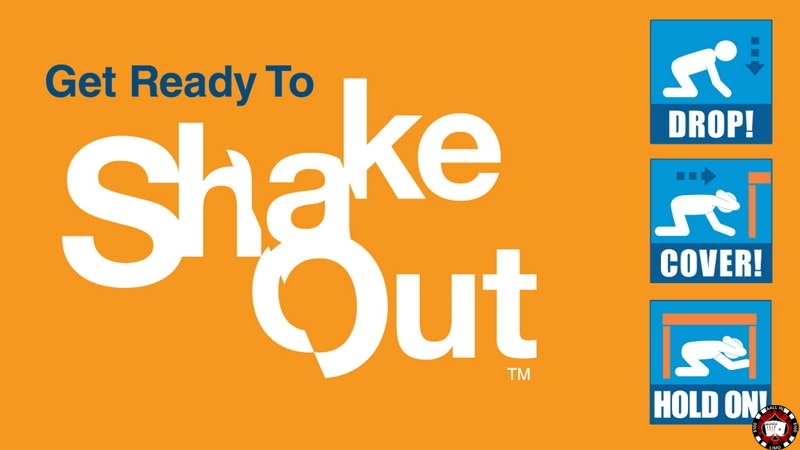 More than 10,000 earthquakes happen in California alone each year. Join the ShakeOut Earthquake Drill on October 21st and practice how to protect yourself during earthquakes.
Annually, it's estimated that more than 7.5 million people are affected by these events in some way, including people who:
are killed or injured
suffer any kind of property damages
Everyone in the United States understands that California is a place known for earthquakes.
In 2008, scientists using a new model to determine the probability of big quakes, warned about the fact that California has a 99% chance of having a magnitude earthquake of at least 6.7 within the next 30 years.
The likelihood of a 7.5 or greater quake in the next 30 years is 46% - with more chances for it to occur in the southern part of the state.
These results of the Uniform California Earthquake Rupture Forecast (UCERF) studies serve as a reminder that all Californians live in earthquake state and should be prepared. Earthquakes cannot be prevented, the damage they do can be reduced through prudent planning and preparedness.
You could be anywhere when an earthquake strikes: at work, at home, at school, or - why not? – even on vacation. Are you sure you are prepared to survive and to recover quickly?
California ShakeOut Earthquake Drill: Drop, Cover and Hold On!
Federal, state, and local emergency management experts agree that "Drop, Cover, and Hold On" is the appropriate action to reduce injury and death during earthquakes. The ShakeOut is our opportunity to practice how to protect ourselves during earthquakes.
Great ShakeOut earthquake drills are an opportunity to practice how to how to protect ourselves during earthquakes.
ShakeOut also has been organized to encourage you, your community, your school, or your organization to update emergency plans and supplies and to secure your space in order to prevent damage and injuries. Official rescue teams who have been dispatched to the scene of earthquakes continue to advocate the use of the internationally recognized "Drop, Cover and Hold On" protocol to protect lives during earthquakes:
DROP to the ground (before the quake drops you!)
Take COVER and get under a sturdy desk or table
HOLD ON to it until the shaking stops
Join millions of people worldwide who will practice how to Drop, Cover, and Hold On at 10:19 a.m. on October 18* during Great ShakeOut Earthquake Drills! If you don't have a table or desk in your proximity:
Drop to the ground in an inside corner of the building
Cover your head and neck with your hands and arms
Do not run to another room just for getting under a table. Depending on where you are (in bed, driving, in a theater, etc.), you can take other actions which are described in Recommended Earthquake Safety Actions (PDF | RTF).
What if you're Driving when an Earthquake Occurs?
Earthquakes can hit anytime, anywhere while you are at home, at work, in school, or on the highway. It is important to be prepared in time for all these specific situations, as without training it is unlikely you'll know what to do when disaster strikes. As follows we'll provide you with some basic safety tips in case an earthquake surprises you while driving:
Avoid suddenly stopping your vehicle, but gradually slow down
Find a place with no trees, buildings, or power lines and stop at the side of the road
Remain inside your vehicle with your seatbelt fastened
Do not stop on overpasses or under bridges
Remember that aftershocks will follow the initial earthquake
After your vehicle is stopped do not drive away until authorities inform you that it is safe
Turn on your car radio and listen to official recommendations
Make sure your vehicle is equipped in time with a first aid kit, bottled water, blankets, fire extinguisher, and flashlight
In case of a major event respecting these basic rules can keep you safe. The more informed you are, the less likely you'll panic at the crucial moment. So do not consider, earthquakes will avoid you: be informed and prepared and encourage others to do so as well.
Aall In Limo & Party Bus: Style and Safety go Hand in Hand!
Aall In Limo & Party Bus staff knows that a great deal of style comes with safety and social responsibility. We're proudly announcing that we've just joined the ShakeOut earthquake drill and we want to invite you to register as well. You can never be too prepared for a major earthquake. We all must practice how to protect ourselves when they happen. The aim of the ShakeOut is to help people and organizations do both.
Be responsible and register today! Spread the word to all your loved ones!