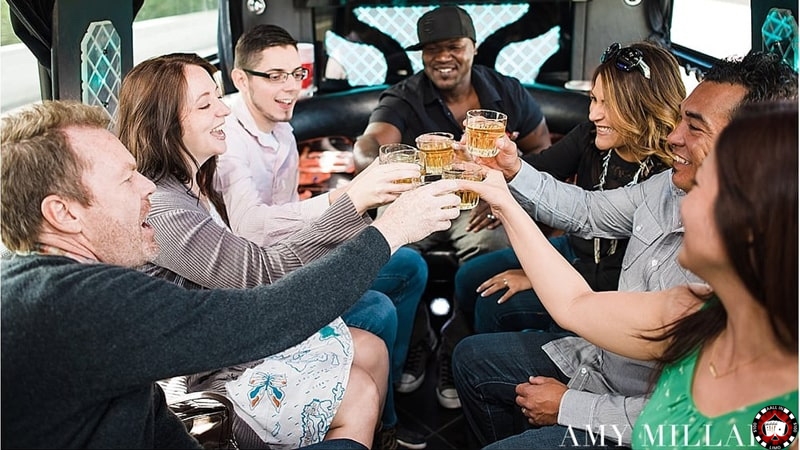 In the past years, party buses have hugely increased their popularity as one of the most fun means of transportation for an important event in someone's life.
You can pretty much think of them as a secluded nightclub on wheels, where you can enjoy some fun hours with your friends. You can decorate them with a cool theme and add elements that everyone will enjoy. 
So in case you've never thought about it as a location/transportation for your special event, you're probably wondering what can you actually do on a party bus? Well, the answer is about anything! And we've put together a great list to help guide you to figure out how can a party bus come in handy, in regards to your celebration. 
From bachelor/bachelorette parties to graduation or birthday parties filled with fun games, your favorite music, and drinks you can be sure that choosing a party bus will make for a memorable night.
You can have an adventurous night, going from one place to another while keeping the party going even as you're on the road. And there are so many cool activities that you can enjoy while on the bus that by the end of the night you might even get to feel like the best time you've had was actually while riding the bus!
Types of Parties You Can Celebrate on a Party Bus
Birthday Parties
Want to make your birthday memorable for years to come? Choosing a party bus is the way to go. Whatever you choose your fixed locations to be, either a restaurant or a tour of the hottest nightclubs, you'll definitely have a lot more fun on the way there than with a regular transportation method. You can keep the party going all night, choose your own music and even dance and play games. Not to mention that you don't have to worry about a designated driver. It's the perfect way to surprise your guests and throw a unique bash!
Bachelor/Bachelorette Parties
We all know that celebrating your last night of unmarried life can get a little wild, whether we're talking about guys or girls. So this is the perfect way to get around and keep the party going all night, as you can be sure that everyone gets from point A to point B safely and super comfortably. You can decorate the bus in the theme of the night and spice it up with your favorite drinks and snacks. 
Graduation Parties
Graduation day is one of the most important events in our life. It practically marks the transition into adulthood and it's definitely an occasion that needs to be celebrated in a special way. You can decorate the party bus in your university colors or even with the theme of your next journey and come up with some fun games that you and your friends can play. You can have the bus pick everyone up and get you to all the places you want to go in a safe and super fun way!
Girls Night Out
As we get older, it's harder and harder to get together with the whole gang, so why not surprise your friends with a fun night out? Rent a party bus and plan a cool itinerary that can help you just relax and enjoy some time with each other. A wine tour could make for a great girls' day/night out and it's sure to make for a memorable one. Temecula has the best wineries in the SoCal area, topped with wonderful views and some of the best restaurants you can find for lunch or dinner.
Guys Night Out
A guys' night out is a great way to blow off some steam and reconnect with your buddies. Want to know the best part of renting a party bus? There's no drinking limit or designated driver! You could do a brewery tour around San Diego's award-winning breweries and keep enjoying those tasty beers on the ride to the next spot.
Pre-Wedding Parties
Wedding planning can be extremely stressful, especially when you have to think about every detail of the day and organize all the necessary accommodations for your guests.  Well, when it comes to transportation the most fun way to do it is by renting a party bus so that your guests can get warmed up and ready to slay the dance floor all night.
Best Activities for A Party Bus
No party is complete without some fun activities and having one on a special bus is no exception. Besides drinking and catching up with each other, you can spice things up with a couple of fun activities and games that anyone will enjoy. If you're a little short on ideas, we've got some great ones for you.
Karaoke
Who doesn't enjoy singing their favorite tunes, surrounded by friends cheering? You can even make a game out of it, by turning it into a friendly talent show. Write the songs on pieces of paper and put them in a hat. Take turns picking and make sure to give a memorable performance!
Guest DJ
All you need is to set up your own playlist and take a turn as the party Dj. You can share your favorite music with everyone, discover tunes you've never heard of, and get into some sing-along fun.
Scavenger Hunt
There are a few ways to play this game. First, make a list of all the items and hide them all over the party bus. You can divide into two teams that can scour the bus in search of the items. The side that finds the most items wins. Another fun way to play this is to create a list of things that each player has to procure at rest stops.
Name That Tune
When it comes to road games, there are only a few as fun as Name That Tune. All you need is a smartphone and an iTunes or Spotify pre-made playlist. Plug the phone into the bus' onboard stereo system, and you're all set for the musical trivia.
Board Games
Cards against humanity are always fun to play so if you want to have a few laughs you need to take this game with you. A trivia game can also be a lot of fun, especially if you make up your own questions specially designed to make everyone get more comfortable with each other. 
Book a Party Bus For Your Get-Together From Aall In Limo & Party Bus
No matter what type of party are you getting ready for, we guarantee that a party bus will make it a lot more fun and memorable.
We can help you plan your entire night and while providing safe and comfortable transportation for your group so that this way everyone can have fun, play games, and keep the party going even on the road!
Call us at 858.336.1894 and book your party bus now!