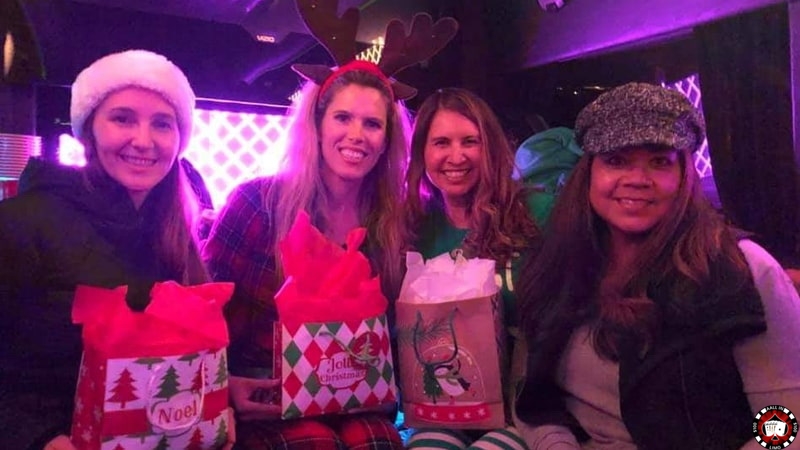 Winter is coming, and so is Santa Claus with his sleigh full of gifts for you. But because he can't take you for a ride with his reindeers, we already send him a letter to let him know we are here for you.
Our limo is at least as magical and fantastic as Santa's sleigh, but it's cozier!
Let this year's holiday season be merry and unforgettable with Aall In Limo & Party Bus, and consider all the joyful things you could do in December with your friends and family. We already thought of how to make the holidays better for you just in case you might be too busy to stay connected to all the events and concerts happening in San Diego and Los Angeles, or just in case you want some recommendations. We all know how difficult is to decide from so many great options, but take a look at our suggestions of events we could drive you to for a great Christmas experience.
Lightscape, Los Angeles
From November 12, 2021, through January 16, 2022, you can relax in the backseat and enjoy this after-dark sparkling drive-through event in County Arboretum, L.A. An illuminated seasonal event, Lightscape has thousands of lights displayed in tunnel forms which are, by the way, incredibly photogenic.
You and your dear ones will love this debuting event in Los Angeles, so be sure to book a limo and reserve a ticket as soon as possible. It would be a pity to miss out on this event!
LA Zoo Lights, Los Angeles
You might have been waiting for this event since it was postponed until the 2021-22 season due to the pandemic circumstances, but let's hope that this year we'll be able to drive you to this holiday light extravaganza.
Make your Christmas holiday spectacular and feel like a character from a fairytale by experiencing the largest illuminated pop-up storybook from the whole world. Be prepared to take selfies with your friends and family in a twinkling tunnel with fascinating dynamic colors swirling around, huge snowflakes, and magical disco balls in a forest.
The most surreal experience for this year that we can recommend to you, we hope you'll give it a try and book a limo soon enough to reserve your ride.
Carols by Candlelight, San Diego
Because the holiday season reminds us all to practice kindness, compassion, and gratitude, and we all try hard to be the best version of ourselves no only for us, but for others, we recommend you this concert in the Poway Center.
This charitable event with a focus on improving the life quality of children, it's the perfect occasion for showing kindness while enchanting your ears with the music of artists such as Phil Vasser, Jamie O'Neil, Sara Evans, Little River Band, and many others.
My Fair Lady, San Diego Civic Theatre
If you don't necessarily want everything about the holiday season to be sparkly, decorated and Christmas-themed, we recommend you this event in San Diego from November 30 to December 5. Christmas can simply be about spending quality time together for some people, without the extravagant part of it, even though most of us love it.
My Fair Lady is a musical brought to you by Lincoln Center Theater, and it's about a flower seller, Eliza Doolittle, and a linguistics professor, Henry Higgins. The professor's ambition is to transform her into what he considers to be "a proper lady".
We don't want to spoil this well-thought story, but let's just say it's worth seeing who is being transformed.
Cirque Musica Holiday Spectacular, San Diego
On November 17, at The Magnolia Performing Arts Center, you can witness the breathtaking performances of aerialists, acrobats, and more experienced performers. At this holiday season event, you'll be treated like a VIP, with a special red-carpet entry where the members of Cirque Musica will welcome you.
We will make this VIP experience even greater with our elegant limousines that you can book for this fancy joyful event.
Book a Limo for The San Diego and Los Angeles Christmas Holiday Season
Dare to glam up your Christmas this year with a party bus or an elegant limousine tour! The Aall In Limo & Party Bus drivers are always ready to take you to and from whatever event you're choosing to enjoy this year. If you want to enjoy Christmas events and concerts, let's plan an itinerary together so that you get to see as much as you want. Please remember to book your limo in time so that you're sure that you get to enjoy all the comfort our transportation has to offer,  we tend to get really busy this time of the year. We would really love to make your Christmas holidays merry and unforgettable!