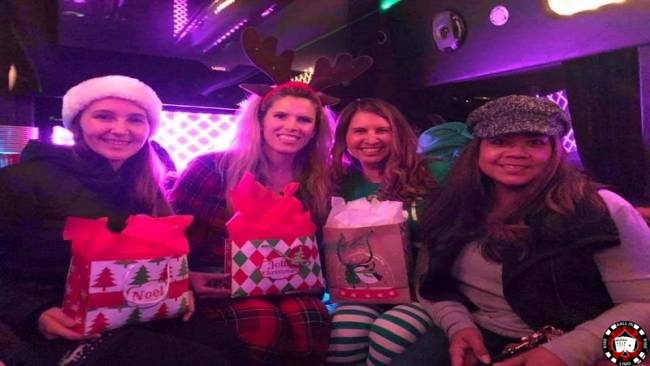 It's the most wonderful time of the year - The Holiday Season! Christmas is that period of the year filled with joy and happiness when all the family members and friends are coming to stay together, so you need to offer them fun and unforgettable moments.
Our limo party bus is the solution for creating great memories with your loved ones. Transform our party bus into Santa Claus's sleigh, and let's have a magical experience!
We will drive you safely anywhere in San Diego and vicinities. You can choose where you want to go:
Or you can enjoy the ride while admiring all the Christmas lights in the city!
Out Picks of Party Bus Themes for the Holidays
Pajama Party
Take your coziest or your sexiest pajama and enjoy a great party! Everyone has a favorite Christmas pajama; now is the perfect time to wear it!
The Pajama Party is the most wanted theme. You will feel cozy in your own stuff, having a lot of fun moments. Don't forget your slippers!
Ugly Christmas Sweater Party
It's the moment to wear that sweater you don't like, probably received from Grandma as a Christmas gift. The Ugly Christmas Sweater Party theme means a relaxed atmosphere, not caring how you look but how you feel. Take your dear ones and their ugly sweaters, and let's have a great time. You are lucky that there is no dress code to enter our party bus!
Elf Party
The elves are helping Santa Claus by sending presents all over the world. They will surely be the little magic that will help organize the best party.
Tiny magic creatures - the Elf Party theme will be a funny one. The elf costumes and decorations are something apart, ready to amuse everyone. Do not forget about those big elf ears because this detail is a must for this great party!
Holiday Carol-oke Party
The holiday season is the chance to bring all your loved ones together - spend quality time and create lifetime memories!
The Holiday Carol-oke Party theme encourages everyone to sing, no matter how bad they sound. Enjoy Karaoke, listen to Christmas carols, and believe you are a real singer for one night. No matter how you sing, we are here to offer you and your group a ride with our limo party bus!
Winter Wonderland Party
Unique because of its beauty, winter is probably the most remarkable season. A Winter Wonderland Party will create a fairytale experience. All around in white, lights and candles everywhere.
Decorate our party bus and imagine you will arrive in Lapland!
The holiday season is a magical season, so enjoy it! Keep everyone safe while having the best time. The holiday season is about sharing incredible moments with family and friends. We are here to provide you with the best transportation.
Aall In Limo & Party Bus Can Make Your Holidays Unforgettable
Holidays are the most beautiful period of the year, so choose to spend quality time and create amazing memories with your loved ones. The best gift you can offer is your time.
Hire a luxury car for a special ride, and everyone will talk about this experience. Our party bus is the key to making the holidays incredible and unforgettable.
Treat yourself and your loved ones to a memorable and unique experience.  Book us to travel in style! Create endless memories while Aall In Limo & Party Bus will safely ensure your trip.