With the wedding season soon upon us, preparations are in full swing. If your best friend is ready to tie the knot this year, you will surely be the one that needs to plan the perfect bachelorette party in San Diego. There is no need to go all the way to Vegas to have a blast with the girls. There are many local spots in San Diego that are perfect for your celebration. It is time for you and the rest of the bridal party to get together and figure out the best ideas for a cool bachelorette party in San Diego.
For a bride-to-be, the main requirements before the big day include creating a stress-free environment and enjoy one more wild night in San Diego as a final salute to singlehood. Whether you pick a spot you have been all gathering at for years or you pick a new place to create some fresh memories, make sure the bride is comfortable with the idea.
Schedule things that the future bride enjoys, with people she loves. Also, make sure you don't over schedule and leave a little time for the girls to unwind and catch up. Also, it is important to set a budget beforehand, while considering the financial constraints of the others. Here are our top 13 picks for bachelorette party ideas:
1. San Diego To Temecula Wine Tasting Tours In A Limo Party Bus ($375+/5h 8-20 Passengers)
2. Entertain with Male Strippers for Bachelorette Parties ($175-$225/hour Male Stripper)
3. San Diego Beer Tasting Tours In A Limo Party Bus ($300+/4h 8-20 Passengers)
4. San Diego Club & Bar Hopping in a Limo ($90-$150/hour)
5. Dinner at the Best Restaurants in San Diego
If you wish to organize a bachelorette party make sure you choose San Diego and you'll never be dissappointed. Little Italy and Gaslamp Quarter are two neighborhoods in San Diego, packed with friendly restaurants, trendy cocktail bars, brewpubs and nice patios. If your bachelorettes want to eat at a fancy restaurant, these neighborhoods have everything.
Mister A's
Searsucker Restaurant
Donovan's Steakhouse
Fleming's Steakhouse
Blue Point Coastal Cuisine
6. San Diego's Best Spas ($190+/person)
7. Temecula Hot Air Balloon Ride ($148+/person)
8. San Diego 2 or 3 Day Weekend Getaway ($500+/person)
A weekend getaway means partying all you can, spoiling yourselves, bonding and catching up with each other. The San Diego area is full of fun spots, from the glamorous to the laid-back type to fit any and all needs. For a memorable weekend in San Diego, we recommend staying at the following hotels:
Andaz San Diego-a concept by Hyatt
Hard Rock Hotel San Diego
Hilton San Diego Bayfront Hotel
Manchester Grand Hyatt San Diego Hotel
9. Drag Queen Shows & Parties ($40 - $150/person)
Lips Restaurant
10. Sassy Burlesque Party in San Diego ($500+/package)
11. Boudoir Photoshoot in San Diego ($220+/package)
12. Surf Lessons in San Diego ($85+/person)
13. San Diego VIP Dinner Cruises (from $95/person)
Aall In Limo & Party Bus: Taking Your Party To The Next Level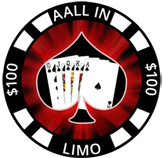 Sit back, relax and let Aall In Limo & Party Bus help you plan an awesome bachelorette party that you will remember for a lifetime. Our knowledgeable chauffeurs will ensure you receive VIP treatment all day and night so that you can focus on nothing else but good fun and relaxation before the big day.
We provide a full bachelorette package that you can customize in any way. Call us at 858.336.1894 and let us know how we can help you plan the perfect bachelorette party.