With the wedding season soon upon us, preparations are in full swing. If your best friend is ready to tie the knot this year, you will surely be the one that needs to plan the perfect bachelorette party in San Diego.
There is no need to go all the way to Vegas to have a blast with the girls.
There are many local spots in San Diego that are perfect for your celebration. It is time for you and the rest of the bridal party to get together and figure out the best ideas for a cool bachelorette party in San Diego. For a bride-to-be, the main requirements before the big day include creating a stress-free environment and enjoy one more wild night in San Diego as a final salute to singlehood.
Whether you pick a spot you have been all gathering at for years or you pick a new place to create some fresh memories, make sure the bride is comfortable with the idea. Schedule things that the future bride enjoys, with people she loves. Also, make sure you don't over-schedule and leave a little time for the girls to unwind and catch up. Also, it is important to set a budget beforehand, while considering the financial constraints of the others. Here are our top 13 picks for bachelorette party ideas:
1. San Diego To Temecula Wine Tasting Tours In A Limo Party Bus ($375+/5h 8-20 Passengers)
You can never go wrong with a bachelorette party set in the beautiful Temecula Valley. With our skilled, knowledgeable, and friendly chauffeurs at the wheel, you are destined to have a great time. A day full of wine tasting and gourmet foods enjoyed on shady patios with live music is the way to go for a relaxing bachelorette party.
Book any wine tour in Temecula and you will receive free champagne. We can help you personalize the bachelorette wine tasting tour in any way you want and we can help you pick the wineries that you are most interested in.
Aall In Limo & Party Bus specializes in Temecula Valley limo wine tours. Our limousines and party buses can accommodate 8 - 20 people, therefore our stylish limos are perfect for large groups of girls. Make sure to check them and choose the one that best fits your group.
2. Entertain with Male Strippers for Bachelorette Parties (starting at $149/h Male Stripper)
Are you about to plan the ultimate bachelorette party for the bride-to-be and your closest girlfriends? You want it to be glamorous and fun, hot and wild? Then look no further. Bad Girl Productions and Aall In Limo & Party Bus go hand in hand when it comes to organizing bachelorette parties.
Our 20-people party bus is the most wanted vehicle for bachelorette parties. Where would you like to celebrate? In a fancy club or a private yacht? In a party bus or in a luxurious stretch limo? It's up to you.
The male strippers from Bad Girl Productions can come to your hotel or in a private limo to entertain you for an entire hour. We can take care of all the details and also bring the hottest male strippers to spice up your party. Just select the strippers you like from Bad Girl Productions and rent a luxurious limo from Aall In Limo & Party Bus and your night will be unforgettable. We provide flawless services in comfortable and luxurious limousines.
3. San Diego Beer Tasting Tours In A Limo Party Bus ($300+/4h 8-20 Passengers)
At Aall In Limo & Party Bus, we aim to provide the best brewery tour experience in San Diego. From Stone Brewing Co. and Karl Strauss to AleSmith Brewing Company and San Diego Brewing Co., the city is home to some of the finest breweries around.
We offer customized brewery tours, ranging from a full day of brewery hopping, tasting, and eating to a visit to one or two of your favorites.
The tours may be customized in any way you choose and could differ depending on events or specials.
Our drivers will help you choose your own itinerary for a special limo beer tasting tour throughout San Diego. You can find a complete list of our brew tours prices and packages on our website.
4. San Diego Club & Bar Hopping in a Limo ($90-$150/hour)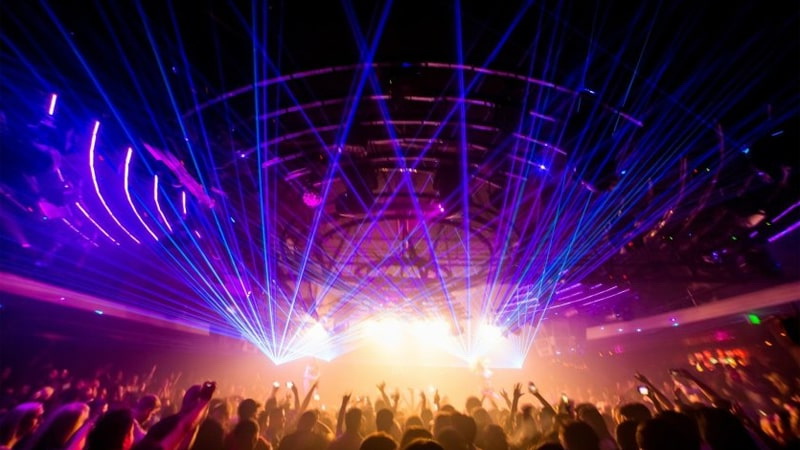 FLUXX
500 4th Ave, San Diego, CA 92101
Thursday-Saturday:
9 PM to 2 AM
Get Directions
If you like dancing to the music of today's best artists and DJs, you have just found the perfect place for your bachelorette party.
Here are the main reasons why FLUXX Club is the best choice for your San Diego bachelorette party.
Enjoy a VIP experience, from intimate weddings to elaborate corporate parties
Your idea, your party: from live mermaids to Marrakesh inspired belly dancers
Live music performances by today's hottest artists and DJs
Creative catering and  good-looking dancers on stage to keep you entertained
Mark this unforgettable event by choosing to get to FLUXX in a limo and keep it classy all the way. You can book one from Aall Limo & Party Bus and we'll take you to the best nightclub in San Diego.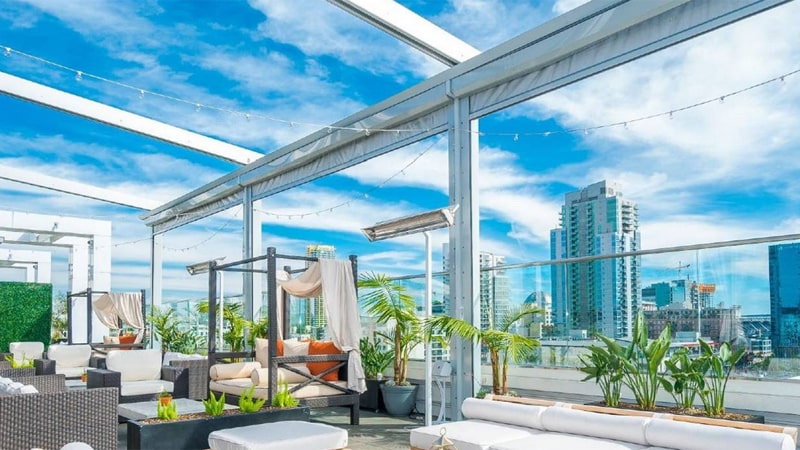 The Rooftop By STK
600 F St, San Diego, CA 92101
Monday-Sunday:
6:30AM - 12:00AM
Get Directions
The Rooftop by STK is situated on the rooftop of The Andaz Hotel in San Diego. It has a great panoramic city view overlooking the Gaslamp District.
This amazing place can accommodate many types of private events from small parties to larger events.
Here's why The Rooftop by STK is the perfect setting to elevate your bachelorette party.
Lounge poolside with creative signature cocktails and classy rooftop lounge
By day: Stunning city views and creative regional cuisine
By night: great music and views, while enjoying a private table for dinner or relax next to the fire pit
VIP bottle service available
If you want a classy and memorable event, you should take a city tour before, in the luxurious and comfortable limos or party buses of Aall In Limo & Party Bus.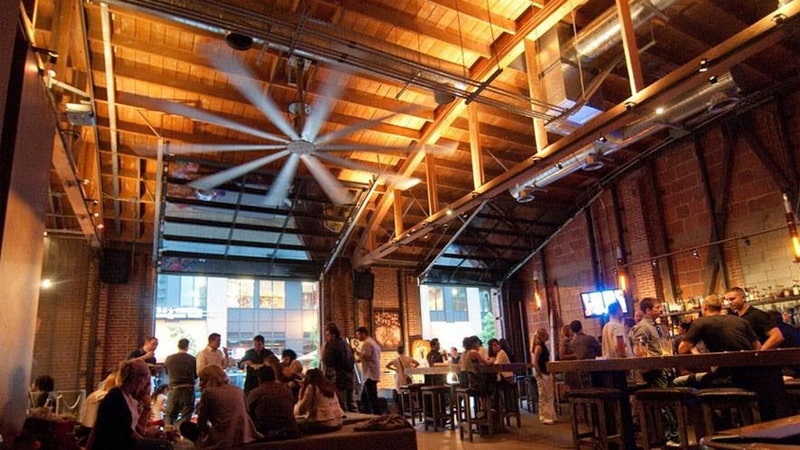 Basic Bar/Pizza
410 Tenth Ave, San Diego, CA 92101
Monday-Sunday:
11:30AM - 2:00AM
Get Directions
Located in the heart of East Village in Downtown San Diego, with a specific downtown warehouse vibe, this restaurant and bar were converted from an authentic 1912 warehouse. The result is an urban-style bar and restaurant. Here's why you should choose Basic Bar for your bachelorette party.
You can try our award-winning New Heaven Thin Crust Pizza
Happy Hour every day at 4-7 pm with special drinks and free slices of pizza
Restaurant and bar open and serving food until 2 a.m.
Exciting nightlife with a downtown warehouse vibe
Basic has exciting nightlife and it's the perfect location to elevate your next event. For a truly classy event is recommended to rent luxurious limos or party buses from Aall In Limo & Party Bus for a city ride in San Diego.
5. Dinner at the Best Restaurants in San Diego
If you wish to organize a bachelorette party make sure you choose San Diego and you'll never be disappointed. Little Italy and Gaslamp Quarter are two neighborhoods in San Diego, packed with friendly restaurants, trendy cocktail bars, brewpubs, and nice patios. If your bachelorettes want to eat at a fancy restaurant, these neighborhoods have everything.
Mister A's
Perhaps San Diego's most spectacular happy hour spot, Mister A's offers great services and its fancy interior is only getting beaten by the fancier food. Mister A's should be your choice whether you're looking for a relaxing place for your bachelorettes or you just want a place where you can enjoy a nice select dinner with your girls and here's why:
Private dining for a more intimate dining experience
A balcony on the 12th floor of a downtown high-rise to offer you the most generous views of San Diego
For a selective party or gathering, you can always request a private event
Happy Hour, every Sunday to Thursday between 2:30 and 6 P.M., enjoy the same high-quality products at a lower price
Your evening can't get fancier than this at Mister A's unless you complete it with a luxurious limo ride provided by Aall in Limo & Party Bus. Make this place your last destination in a unique ride with the limo.
Searsucker Restaurant
Searsucker is one of the finest restaurants in downtown San Diego. With fresh seafood caught on the San Diego coast and locally brewed beers on the menu, it's a great choice for any type of event. Here's why you should choose Searsucker for your bachelorette party:
Listen to live music in a fun, warm atmosphere
Sit back with friends or family eating well-crafted food and sipping on delicious cocktails
Lounge space with comfortable seating, and lively bar areas
You can chat without boundaries as if you're at a friend's dinner party rather than a restaurant
It is also a perfect choice for larger events. A great way to spice up your event at Searsucker restaurant is to rent a luxurious limousine or party bus from Aall Limo & Party Bus for your guests.
Donovan's Steakhouse
Located in a historical part of downtown San Diego, dining at Donovan's means excellent service and exquisite meat quality. The stylish setting is perfect for your bachelorette party because it also includes:
Donovan's Steakhouse provides dining rooms for private events, privacy and excellent service quality are ensured
Top-quality fresh products and experienced chefs
An extensive list of beverage options can satisfy any and all preferences
Fresh seafood is flown in daily and the award-winning wine list features selections from the finest vineyards
Donovan's is the best choice even for the most pretentious tastes. Rent a limo from Aall in Limo & Party Bus and stop by Donovan's for a perfect night.
Fleming's Steakhouse
Fleming's Prime Steakhouse & Wine Bar is a premium downtown San Diego location. Here's why you and your bachelorettes should pay them a visit:
hand-crafted cocktails
a menu filled with your favorites and special, unique meat dishes
several Wine Selection awards
top class chef such as their partner Didi Lopez
Any dish choice on the menu will amaze and delight your taste buds. If interested in private dining, the options they present are meant to serve the greatest products with elegance and style. Visiting such a premium San Diego destination deserves a premium limousine ride service from Aall in Limo & Party Bus.
Blue Point Coastal Cuisine
Blue Point Coastal Cuisine serves the best and finest seafood in San Diego since 1996. Blue Point is one of the best restaurants in Gaslamp Quarter and for good reasons:
Supper Club Sophistication with Award-winning Style
Dinner-oriented menu: with delightful soup options, lobster, crab specialties, and incredible cocktails
Oyster bar in their lounge and select draft beers
Happy Hours daily 5 - 6:40 PM
You do not want to miss out on Blue Point even if you are not a seafood enthusiast. Great client service coupled with exquisite chefs handling the food preparation makes this restaurant a great option for a night out in San Diego.
Travel in style and stop by at an excellent restaurant such as Blue Point Coastal Cuisine by renting a limo from Aall in Limo & Party Bus.
6. San Diego's Best Spas ($190+/person)
You have plenty of reasons not to pass the opportunity of a day of pampering at a local spa with the girls at the Girl on the Go Night Spa:
Enjoy Spa parties
Spoil yourselves with organic skincare, airbrush tanning, event make-up application, and more
Offers a personal, one-on-one experience in a quiet setting
It has a flexible schedule that allows anyone to unwind, refresh and get pampered
Take the girls to Girl on the Go Night Spa and enjoy an evening escape dedicated to beauty, wellness, and relaxation. Let us take care of all other arrangements at the spa so that you can relax and enjoy your day together with the girls.
7. Temecula Hot Air Balloon Ride ($148+/person)
Not afraid of heights? Then you must gather the girls and go for a hot air balloon ride over Temecula or Del Mar. An interesting thing about the hot air balloon ride is that you get a chance to see the beautiful landscape and the plain geography that supports the vineyards.
You and your bachelorettes will be able to see the rolling hills of Temecula Valley
They offer flights for groups of 8
The prices start at $155 per person
You're safe: California Dreamin' is a fully licensed hot air balloon company that has been flying and living ballooning for 35 years
To get the complete VIP experience, book a limo, and take all the girls to experience the California Dreamin' hot air balloon experience.
8. San Diego 2 or 3 Day Weekend Getaway ($500+/person)
A weekend getaway means partying all you can, spoiling yourselves, bonding, and catching up with each other. The San Diego area is full of fun spots, from the glamorous to the laid-back type to fit any and all needs. For a memorable weekend in San Diego, we recommend staying at the following hotels:
Andaz San Diego-a concept by Hyatt
Andaz Hotel is one of the most popular places to crash, clients and tourists always come back for the following:
complimentary beverages upon arrival
complimentary wine tasting
an impressive array of signature cocktails and a fantastic brunch
an exquisite design featuring king-size top quality beds, premium suite options, and direct access to the rooftop pool bar
Andaz provides everything you need for a relaxing weekend getaway. You don't want to miss out on what Andaz Hotel has in store for you, their premium services even offer San Diego hosts to help you choose from the numerous nearby locations. The private cabana on the rooftop is also one of their greatest amenities. Aall In Limo & Party Bus can drive you there in a limo if you want to ride in comfort and style.
Hard Rock Hotel San Diego
Hard Rock Hotel San Diego is a chic rock 'n' roll-themed hotel located a few minutes away from the Gaslamp Quarter. All the rooms are spacious and have flat-screen HDTVs, as well as minibars, high-thread-count sheets, and rainfall showers. Here are a few things that will make you decide if it's the right place for your bachelorette party:
you can choose a studio, a Hard Rock suite, or one of the 17 premium Rock Star suites
The Woodstock Terrace and the hotel's lounges
the Rock Spa and exquisite Rock Shop
musical perks available present
Feeling like a rock star yet? Hard Rock Hotel San Diego offers an experience that will last for ages. Rockstar or not, benefiting from a perfect limo ride from Aall in Limo & Party Bus will make you feel the vibrant energy of the city like never before.
Hilton San Diego Bayfront Hotel
The Bayfront 30-story hotel offers stunningly unique views and great facilities. If you ever wondered what an AAA Four-Diamond Hotel could offer:
A perfect park venue, relaxing spa, and fitness options
Both casual and fine dining room venues
Being close to most of San Diego's top attractions, every room in this hotel provides superb comfort and facilities
Terrific views from the spacious windows and the possibility of renting offices or business centers
Having an event in the Bayfront Park will make you think you landed in paradise, thanks to their exquisite and spacious ballroom coupled with an amazing waterfront view. The Hilton Bayfront Hotel is a great place to stop by if on a Californian road trip and our exquisite Aall in Limo & Party Bus services can help you get there safe and in style.
Manchester Grand Hyatt San Diego Hotel
Manchester Grand Hyatt is a 4-star hotel located in the beautiful Marina District. Being close to San Diego attractions such as Balboa Park or Seaport Village, Grand Hyatt is one of the best hotels in the area. Let's find out why:
Luxurious rooms with modern air-conditioning, large flat-screen TVs with satellite connection
Relaxing and recreational activities such as spa massages and treatments
Swimming in the outdoor pool
Hair salon or the tennis courts
If planning a family trip, a business meeting, party events, or other activities in San Diego, choosing this hotel will not disappoint you. Doing so while opting for a luxurious ride from Aall in Limo & Party Bus will enhance the pleasurable moments you want to experience.
9. Drag Queen Shows & Parties ($40 - $150/person)
Lips Restaurant
This dinner show restaurant offers unique entertainment coupled with feisty beverages and delicious culinary options. The services that Lips offer are reservation-based and after a couple of minutes inside you will understand why:
You are greeted with a cocktail from the bar and  a Diva to take your order
Eye-catching food dishes
Spectacular shows 6 nights/ week
Drag Dinner and Diva Cocktail Party
If above the legal age of 21, try to join the Saturday Taboo Show, which is the top attraction from the great range of shows inside Lips. The perfectly named cocktails, martinis, and of course the all-important shots will make you enjoy yourself even more. Arriving at such a select location in a luxurious limo from Aall in Limo & Party Bus is a perfect choice.
10. Sassy Burlesque Party in San Diego ($500+/package)
If your girls are in love with the theatrical and decadent, then a burlesque party is a must. Begin your evening with a custom bachelorette party from a bit o' Burlesque, because they're offering:
Specialists with years of experience will help you plan everything
The chance to Take a burlesque workshop
You can bring your party to one of our shows
Arrange a special performance by us at your party
Amp up the event ambiance with burlesque, the fun will be endless and totally different.
11. Boudoir Photoshoot in San Diego ($220+/package)
A proper bachelorette party requires a great photoshoot, one of the best ways to get together with your girls before tying the knot. You'll have a great time together and all your soul sisters will leave with a set of photos.
The staff is composed of women only, who will make you feel right at home from the moment you arrive
Awesome boudoir sets
Boudoir poses to fit every client
A great idea is hiring a limo to drive you around San Diego like celebrities all night
Gather the girls and book a boudoir shoot at The Boudoir Divas. We guarantee you will feel energized, pampered, safe, and beautiful. Your photographer will be your personal cheerleader through the session, coaching you through poses and expressions so that you will have a blast.
12. Surf Lessons in San Diego ($85+/person)
Step it up with some fun surfing lessons. If you are looking to do something fun, active, and really different, Surf Diva can organize the perfect event for you. Why you should choose Surf Diva:
They have 3 different packages starting from $85 to $175 per person, for 2 hours of instruction
They are providing all the necessary equipment
There's a team of professional and highly skilled instructors
Catered lunch on the beach
If that's not enough, you get a personal surf photographer to capture all the fun moments and even diplomas for all bachelorettes at the party. Need transportation to Surf Diva? Aall In Limo & Party Bus can take you there in a stylish limo or a big party bus. Gather the girls and celebrate the day before the wedding on the beach with Surf Diva.
13. San Diego VIP Dinner Cruises (from $95/person)
When it comes to bachelorette parties a dinner cruise on a yacht must be on top of your list. For an awesome bachelorette party in San Diego Aall In Limo & Party Bus recommends the following cruise line companies:
Hornblower Cruises & Events to make sure your bachelorette party is a total success, a 3-hour cruise is $95 per guest and it includes a fully hosted bar, appetizers, and custom entertainment
Flagship Cruises & Events offers a luxurious yacht where you can host your bachelorette party, group events, weddings, corporate yacht charters
Just imagine the smiley faces of your girls celebrating on the water, surrounded by the most spectacular views in San Diego. If you wish to hold your bachelorette party on a luxurious yacht, make sure you have a designated driver to take you there. Aall In Limo & Party Bus has the most experienced drivers in San Diego that can take you there on time and ready to party.
Aall In Limo & Party Bus: Taking Your Party To The Next Level
Sit back, relax, and let Aall In Limo & Party Bus help you plan an awesome bachelorette party that you will remember for a lifetime.
Our knowledgeable chauffeurs will ensure you receive VIP treatment all day and night so that you can focus on nothing else but good fun and relaxation before the big day.
We provide a full bachelorette package that you can customize in any way. Let us know how we can help you plan the perfect bachelorette party.