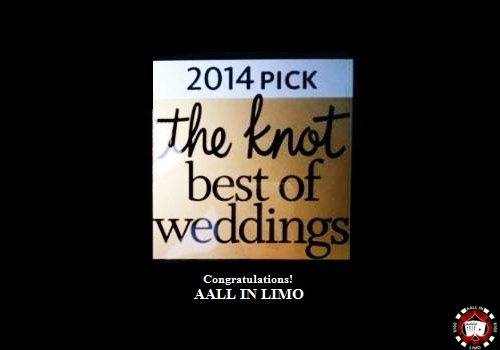 We are pleased to announce that Aall In Limo & Party Bus has been chosen as 2014's best wedding limousine company in San Diego by The Knot, based on reviews and feedback from brides, grooms and wedding guests. We proved to be the best limousine company in the area offering wedding transportation services and we are really proud that we succeeded. Most certainly we could not have done it without our lovely customers and we would like to thank each and every one of them for choosing our services.
The Knot is known to offer everything couples need to plan their wedding, including the best wedding vendors. Best Knot weddings are voted by local brides and this year's best wedding vendor offering limousine transportation to weddings according to San Diego brides and grooms is Aall In Limo & Party Bus. We also have a profile on The Knot, which you can check out.

"We committed ourselves to excellence and it feels great to see positive responses from our clients we drove for their weddings. This makes us deeply grateful and truly happy, I honestly feel honored that these clients have chosen Aall In Limo." - Mike Reifeiss
We Did It Again!
Since our company was founded in 2005 by Mike Reifeiss, we won the San Diego Award in the Limousine & Car Services category both in 2012 and 2013. We believe that there are 6 main things that define good customer service, starting from the first interaction with our clients to returning them safe home:
The Inquiry
When a person calls or e-mails to inquire about a service, the response is very important. Whether he or she will decide to book a limo or not will, in part, depend on the first conversation. We always look to be as helpful as possible, answering all questions in detail and making sure that our clients have completely understood our answers.
The Arrival
We take precision very seriously here at Aall In Limo so we are never late when picking up our clients. Being late is never acceptable, especially when there is a big event planned.
The First Look
First impressions are everything! Sparkling, clean and luxurious limousines are a must because they are a reflection of the limo company and the driver. As part of our commitment to high standards, we make sure that all of our limos are clean and sparkling.
The Ride
Limos should always be stocked with cold beverages, ice and possibly a bottle of champagne for celebrating big events. We always make sure to stock our limos and check the AC, surround sound system and everything else that needs to work flawlessly.
Flexibility
It is really important to be flexible because you never know what is going to happen even if you plan ahead. We always look for solutions to any problem that might come between our clients and their celebration.
Attitude
Our drivers are friendly, relaxed, fun and professional. Clients want to feel special and should be treated with respect the entire time, so delivering a great attitude is definitely a must! Truly caring about your clients can go a long way.
It is a real honor that we have been chosen as the best limo company in the area for weddings and we would like to assure everybody that we will continue to provide excellence in wedding transportation services for our customers.