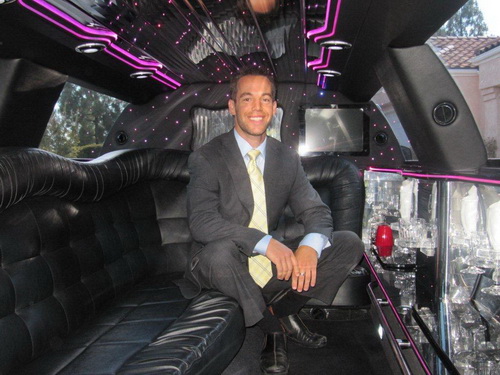 Michael Reifeiss, owner and operator of Aall In Limo & Party Bus, founded his company based on a commitment to providing the best in limo services in San Diego. He is a friendly, caring and genuinely nice person, and is committed to high standards.
Background
Mike was born in Chicago and relocated to San Diego at an early age. Having attended high school and college in San Diego, he now calls San Diego his true home. Mike received his business degree from SDSU in 2001 and went on to found Aall In Limo & Party Bus in 2005.


Commitment to Excellence
Mike has worked hard to build a reputation based on integrity, professionalism and excellent customer service. He takes pride in his business and his reputation and makes sure that each and every customer has an amazing experience they will never forget.
"I booked my first Temecula wine tour with Mike about 4 years ago. He picked us up at my house (early as always) and navigated us through the wine country ever so flawlessly. He listened to our requests, and made his suggestions when necessary, only to help make our day at the wineries even better (2-for-1 coupons)!
My family, friends and I have been booking wine tours, birthday parties, bachelorette outings, concert trips, etc. with Mike ever since. Not only is he our go-to "limo guy," he has become an amazing friend and an individual we consider family. Even after all of the ridiculous conversations, situations, you-name-its, Mike always comes through for us! We have discovered mutual friendships, hobbies and interests and continue to learn new and exciting things about him, as well as his growing business.
Mike is as professional as they come. Quick response time, great pricing, knowledgeable, and always well prepared. I already have two events booked with Mike this year, if that goes to show just how awesome he is!"
- Aall In Limo & Party Bus customer Kara V.
San Diego's Best
When people book Aall In Limo & Party Bus they can rest assured they will be in good hands. As a small, family-owned business, Mike and his staff treat each customer as if he or she is part of the family.
"Mike is awesome," said Aall In Limo & Party Bus customer Marissa F. "I have been in quite a few limos in my life but have never had an awesome driver. He is so lax and was fun to hang out and chat with. Way to go Mike. We will definitely be using you again!"
Mike's hard work and high standards have paid off. Aall In Limo & Party Bus was named the winner of the 2012 San Diego Award in the Limousine & Car Services category by the US Commerce Association (USCA). This award program recognizes local businesses that provide exceptional service to their customers and community.
Call Mike at Aall In Limo & Party Bus Today
If you are looking for a limo service in San Diego that will exceed your expectations, call Mike at Aall In Limo & Party Bus. The limo company offers groups of all sizes, from individual business travelers to large birthday and wedding parties, with luxurious limo rides anywhere in San Diego and Temecula Valley.
The San Diego limo company helps individuals arrive safely and in style to a number of events, including weddings, bachelor and bachelorette parties, Temecula limo wine tours, birthday parties, romantic dates for two, and even business meetings.
To learn more about Aall In Limo & Party Bus or to book a limo for your upcoming event, call Mike today. He will personally make sure that you and your guests have an experience you won't forget!